By Stephen Pauley Herald Correspondent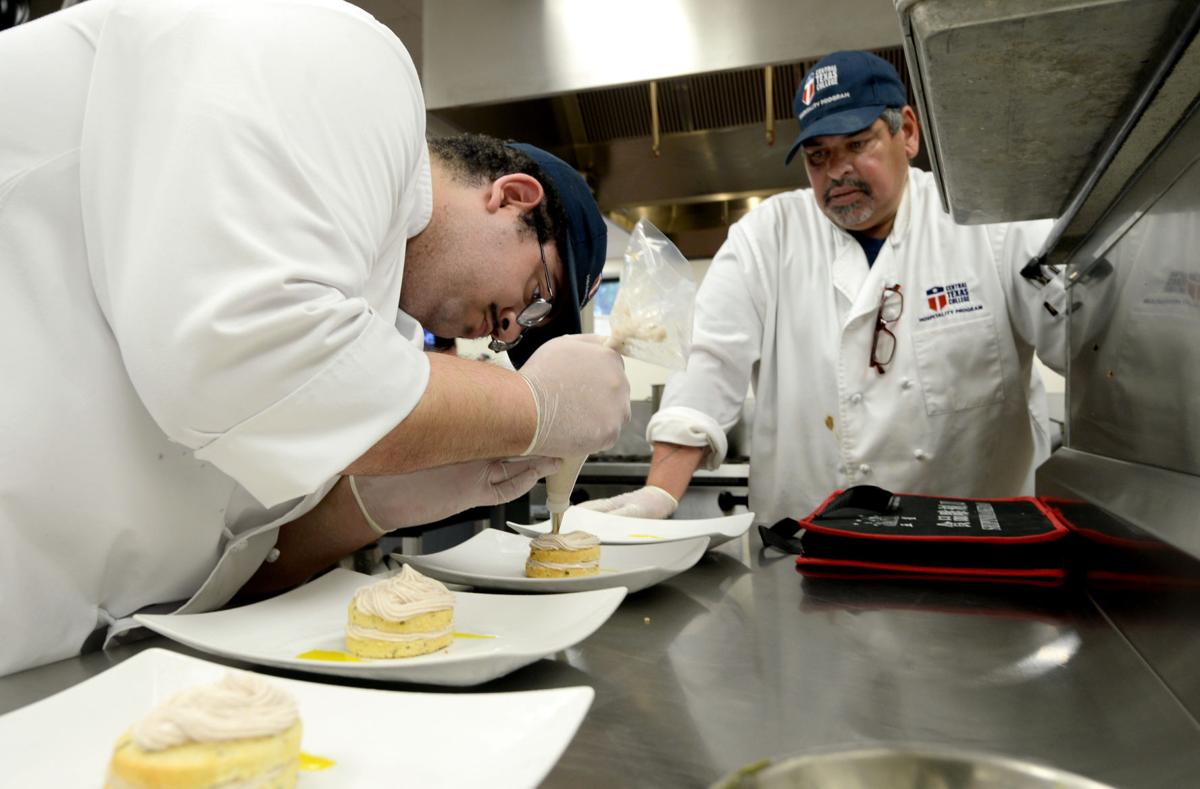 Students in the Central Texas College Culinary Arts program competed in the school's version of the television reality cooking show "Iron Chef" on Thursday.
The annual competition showcased their ability to incorporate a secret ingredient into a variety of dishes: appetizers, entrées, and deserts.
"Our two-year culinary program includes three different areas of emphasis — pastry, baking, and savory. This is the 10th year for our competition, Iron Chef—CTC style," chef Ramona Lezo said. "This is really popular on campus. The culinary students really enjoy it."
This year's secret ingredient for the four-member teams: grape leaf.
Dressed in white uniforms, the teams swirled around frantically, yet confidently, with a variety of dishes.
Koby Robison, 16, a student at Ellison High School, offered his appraisal: "The chicken and rice entrée is outstanding and this seems really well organized." His mother Veronica Gering competed in the competition.
Yet another table in the area nearby could be overheard praising their selection.
"The appetizer was deviled eggs and are really good," said Sashea White, 18. "My entrée was steak and mashed potatoes — medium well — was good as well. The grape leaf gives everything a unique flavor. The desert was a lemon tea cake that beautiful in its presentation and the grape leaf really made it pop,"
Each team was judged by a three-judge panel. The panel this year consisted of executive sous chef Will Wegg of the Shilo Inn; Gill Bledsoe, owner of Pillar Bluff vineyards of Lampasas; and Laura Garrett, owner of Cheesie Buns.
The judges were unanimous in their choice for the winner: The team of Lela Garrett, Anthony Cameron, Jamie Wong and My Quan.
"It was an incredible experience and a true team effort," Cameron said. "Grape leaves were interesting to work with and we had all used them before out on the Patio Café here at CTC. Our appetizer was a grape leaf salad topped with yogurt, lemon juice, and avocado around a red onion. The entrée was seared grape leaves rolled up around our steak, sour dill, lemon juice, and a slightly fried grape leaf chip. Our desert was a spiced rum ganache topped with strawberry and grape leaves."
Larry Mitchell, Realtor, ABR, CRS, GRI,  VLB
Century 21 Randall Morris & Associates
254 681 5115 Cell