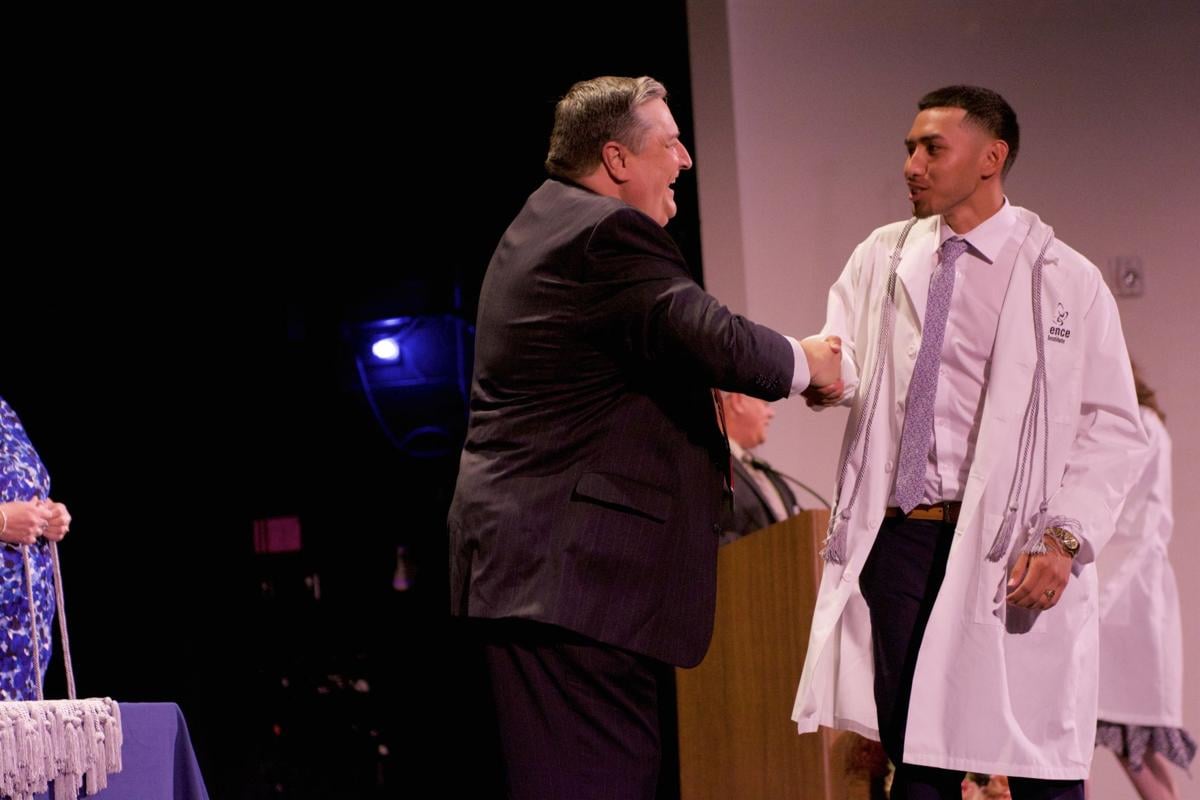 TEMPLE — Working harder than most to pursue dreams even greater than a rigorous curriculum or a prosperous career, 89 Central Texas high school seniors earned silver cords Wednesday and heard a charge to do great things.
Representing 11 area high schools and home schools, each senior stepped across the stage of the Mary Alice Marshall Performing Arts Center on the Temple College campus to accept the shiny honor cords.
The students finished the two-year Texas Bioscience Institute Middle College program, successfully navigating high school and college concurrently in the STEM-focused dual credit curriculum. A total of 88 earned an associate's degree from Temple College.
To earn the cord, the high-achieving students finished their college coursework and completed 16 hours of community service and 16 hours of job shadowing. They will display the silver cord during graduation ceremonies in coming weeks.
"It's been a crazy experience," said Shoemaker High School senior Burt Cruz, II. "I've experienced lots of learning that never would have happened on a high school campus."
Addressing the excited high school seniors and their proud family, friends and educators, Baylor University doctoral student Brooke Morris challenged them to follow their curiosity to make lasting contributions to humanity.
She related to the high school seniors as the mother of a TBI graduate from a year ago and as a current doctoral student pursuing her own advanced degree studying DNA modification patterns.
After completing a community college degree, Morris worked as a dental assistant and raised her children. Unsatisfied in the medical office and charged up by the science magazines in the waiting room, she returned to academia and earned a degree at Baylor University. It was actually volunteer work in a forensic lab that set her on her current path.
"I'm jealous of you," she said, speaking to the students dressed in white lab coats in the college auditorium. "I never had the opportunities you have had at your age…You are academic superstars."
While encouraging the motivated students to change the world, the mother and doctoral student assured the seniors that life would present challenges. "Don't be overwhelmed," she said. "Break your goals into smaller bites."
Completing two years of college and high school concurrently gave the seniors a strong dose of time management, maybe none more than Judson Hayden, the drum major in the Harker Heights High School band.
"It's been stressful," Hayden said, "but enjoyable. It's exciting to be at the end of the two years. The relief is incredible. It's great to know how far we've come."
Several students agreed that the unique community developed among students from a dozen high schools highlighted the difficult academic path. They also praised their teachers.
"The teachers care," said Shoemaker High School senior Myra Simon. "I felt like I was getting a great education here. You can't just breeze through it." She singled out a certain math teacher who was particularly difficult and fun. "There is nothing I would have rather done."
"The community has been great," said Hayden. "I've met new people and the educational benefit has been awesome."
Summing up her challenge to students, Morris said, "Follow the story that sparks your curiosity and that you can't stop thinking about."
This year's TBI Middle College class, including 52 students from Killeen ISD schools, include the following:
Ellison High School – Aylin Chavez (Texas A&M University at Corpus Christi), Bionca Covington (University of Texas), Lianka I. Espada Reyes (Texas A&M University – Central Texas), Nicolas Feliciano-Gutierrez (Texas A&MUniversity), Brianna Fernandez (Texas A&M University), Jessica Gowers (Undecided), Kaitlyn Grimes (Texas Tech University), Keith Jackson II, (University of Texas), Alyssa McKnight (University of Houston), Madysen Morrow (Stephen F. Austin State University), Matthew Roberts (University of Mary Hardin-Baylor), Daisy Rodriguez (University of Texas) and David Warnke (Temple College – Nursing Program)
Harker Heights High School – Zachrieh Alhaj (University of Texas at Arlington), Judah Baptiste (University of Texas), Ellen Bayes (University of North Texas), Alejandra DeChavez (University of Texas), Emily Del Principe (Texas A&M University – Central Texas), Daniella Fernandez (University of Alabama), Alyssa Folger (University of Texas at Arlington), Judson Hayden (University of Texas), Lee Horton (University of Texas), Jin Min Kim (Baylor University), Jennifer Lee (University of Texas), Sonia Lopez (University of Texas), Madigan McDaniel (University of Texas), Jayvaughn Peter (University of Texas), Hannah Peterson (Texas A&M University), Linda Salinas (Texas A&M University) and Mark Styles (United States Military Academy, West Point)
Killeen High School – Kiana Cole (University of Texas), Brianna Garibay (Texas A&M University at Galveston), Amira Lambertis (Texas A&M University), Leilani Nozares (Texas A&M University), Yasmeen Patel (University of Texas), Alana Quinones Garcia (University of Texas at San Antonio), Kalani Smith (Texas State University) and Rosa Velazquez (University of Texas)
Shoemaker High School – Leilani Amituanai (University of Texas), Martin Angulo (Texas State University), Burt Cruz II (University of Mary Hardin-Baylor), Kyle Figueroa (Howard Payne University), Crystal Kinsinger (Texas Tech University), Ty'jewel Madry (University of Texas at San Antonio), Makayla McDonald (University of Texas at San Antonio), Maleya Neal (University of Texas at San Antonio), Lexee Romine (University of Texas at Arlington), Carolyn Sherman-Petty (University of Texas at San Antonio), Myra Simon (University of Texas at Arlington), Michae Villegas (Texas State University), Koshon Williams (University of Texas) and Makenzie Wolf (Texas State University)
Academy High School – Joshua Queen (University of Texas) and Josie Wilder (Texas State University)
Belton High School – Alex Alafa (Tarleton State University), Allison Evatt (Tarleton State University), Channing Marsh (Baylor University), Joshua Meyer (Tarleton State University) and Hannah Smith (Abilene Christian University)
Cameron Yoe High School – Rebekah Ferguson (Undecided) and Diego Martinez (University of Texas at San Antonio)
Chilton High School – Michaela McCord (University of North Texas)
Gatesville High School – Laura Gohlke (Tarleton State University)
Home Schooled – Josephine Davis (Texas A&M University – Central Texas), Zachary Hunt (Texas A&M University) and Oliver Kwan (University of Mary Hardin-Baylor)
Rogers High School – Sophia Adam (University of Texas), Abigail Bruggman (Blinn College), Zoey Davis (Undecided), Savannah Davis (Texas A&M University), Dilon Everett (Tarleton State University)
Salado High School — Haley Howton (Baylor University), Emily Ritch (Texas State University), Jon Whitson (Texas A&M University at Galveston) and Madison Whitson (Texas A&M University)
Larry Mitchell Broker Associate, ABR, CRS, GRI
Century 21 Randall Morris & Associates
254 681 5115 Cell
LMSells@aol.com