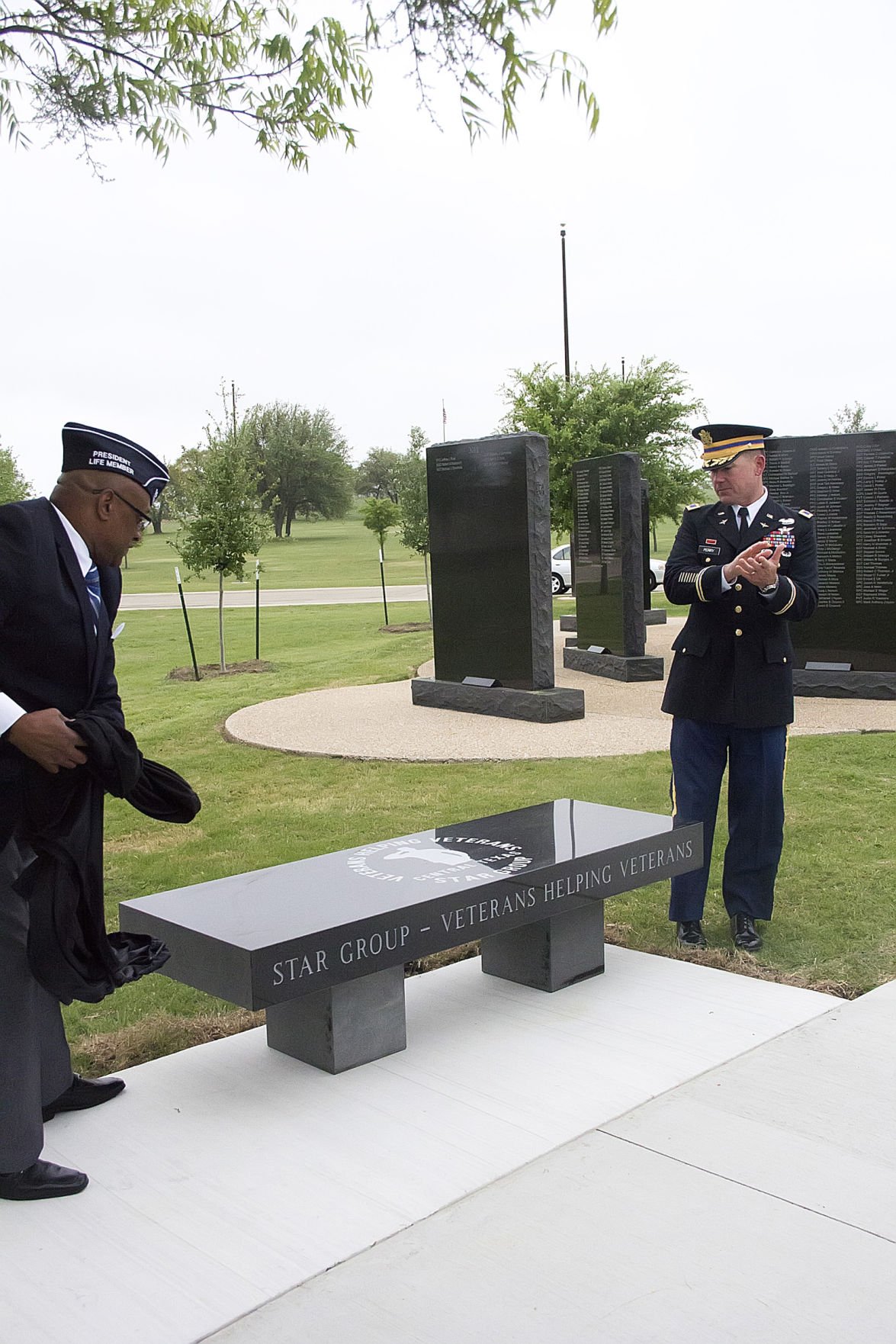 After a year of coordination and donations, Star Group-Veterans Helping Veterans held a dedication ceremony Saturday for the group's memorial bench at the Central Texas State Veterans Cemetery in Killeen.
Attendees walked to a covered bench next to a memorial honoring Fort Hood soldiers who died in Iraq and Afghanistan.
On the count of three, Fort Hood Garrison Commander Col. Henry Perry and Jonathan Haywood, president of Star Group-Veterans Helping Veterans, unveiled the new bench.
Scott Funeral Home's co-owner Ronnie Viss helped the Copperas Cove veterans group design and order the memorial bench. Pat Bernhard donated the 8-foot by 4-foot concrete slabs.
The site of the bench is significant to veterans groups members.
"We have several family members and soldiers on those walls," said the group's Executive Officer Sheila Timmons. "Mr. Haywood and several members knew someone on the walls."
Attendees at the ceremony said the bench is in a great spot for people to spend time with their loved ones.
"My dad is buried here. I am here frequently," said JoAnn Courtland, director of the local Operation Stand Down, a nonprofit that helps homeless veterans.
Larry Mitchell, Realtor for Bell County, Belton, Copperas Cove, Killeen, Harker Heights, Jarrell, Salado, Temple, Williamson County, Texas
Century 21 Randall Morris & Associates
254 681 5115
LMSells@aol.com