New VLA play debuts Friday in Killeen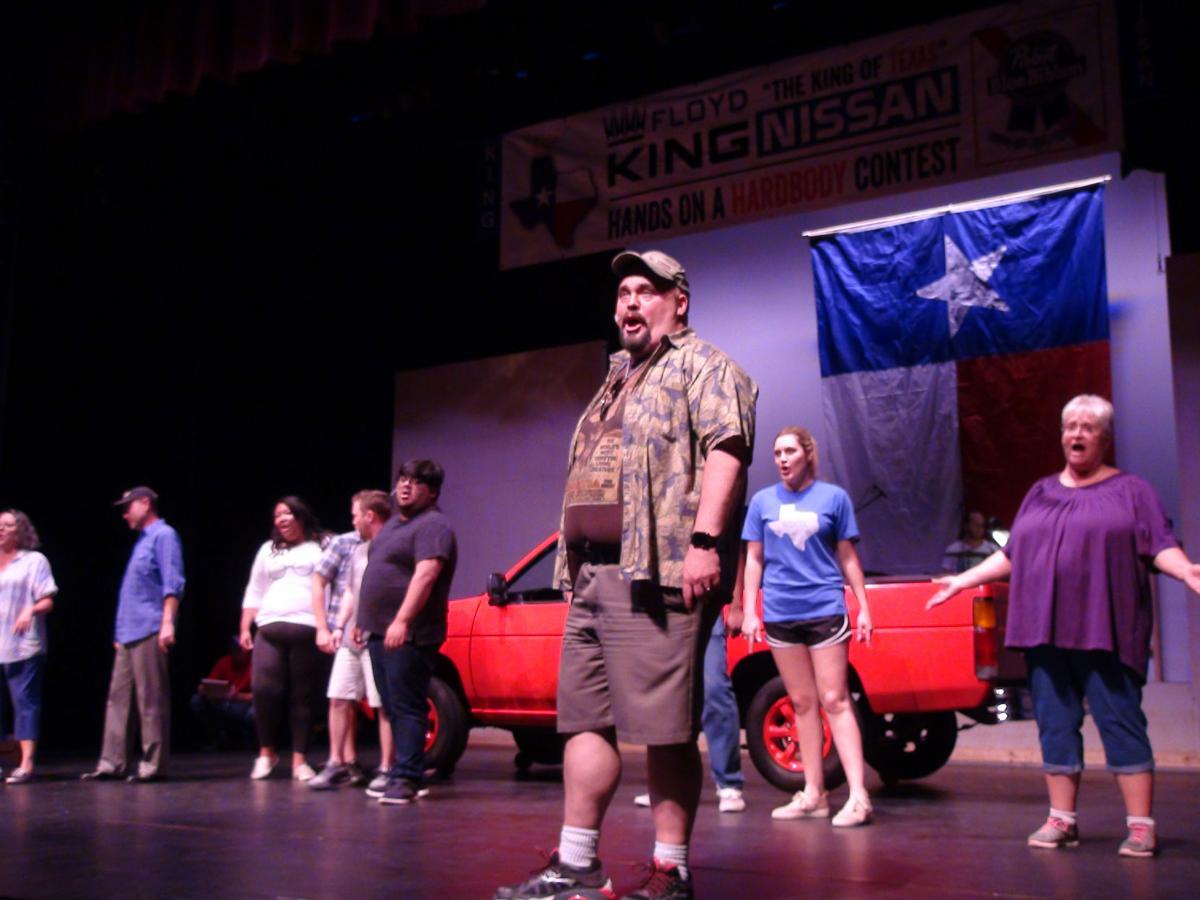 Driving into town at Vive Les Arts Theatre is a finely tuned-up musical production of "Hands on a Hard Body" Friday through Sunday and April 13-15. The theater is at 3401 S. W.S. Young Drive
Crisply staged by Eric Shepard, Vive Les Arts Theatre executive director, the musical blends stories of down-on-their luck Texans vying to win a new red Nissan truck in a dealership giveaway contest. The last man, or woman, touching the truck wins and hopefully drives off into a better life. Contestants get a short break every six hours, but as time ticks by the pain and exhaustion sets in with characters losing their grip physically, emotionally and mentally.
"Hands on a Hardbody" portrays ordinary folks struggling as they search for a more comfortable ride through life.
The truck represents more than a vehicle, it is symbol of a dream, which is different for each character.
"The way the audience gets to know the characters is through the songs, and know what their hopes are," said Shepard. A cast of 15 features actors from throughout Central Texas.
Charity Gaines plays Norma Velverde, a God-fearing, kind-hearted woman, who believes God wants her to win.
Gaines is drawn to the Killeen theater for its sense of community. "This is a very welcoming theater, so its' a blessing to be here," Gaines said.
Waitress Heather Stovall (Tori Chron) must ride her bike everywhere, so she flirts with the car sales manager hoping to increase her chances of winning.
"It's a fun show with a great cast and crew to work with," she said.
The score of 20 songs is a bouncy mix of gospel, rock and country, with musical director Erik Reynolds conducting
Playing Mike Ferris, the salesman, is Micah Key, who called his character sleazy.
"I'm not above cheating to let certain people win that look better than others," laughed Key, adding he's enjoying playing for the Killeen audience.
Cleverly mounted on small wheels, the red Nissan truck moves allowing the audience to view it from all sides. The minimal set design uses a large Texas flag as a backdrop with a small desk to the side for the dealership's office.
Wannabe movie stuntman Greg Wilhote (Joey Tamayo), sees the truck as his escape from dead-end, small town life.
Theater is always for the audience benefit, he said. "Seeing that an audience is so receptive of what we're able to create makes it all worth it."
A seasoned performer, John Tripp plays Benny Perkins, a previous winner hoping to win again, so he uses psychological warfare to plot against other contestants. "Benny is the bad guy, but has grown on me and gets redeemed at the end of the show," said Tripp. He encouraged the public to continue supporting the theater. "People of Killeen should recognize what a nice facility the city has going here," he said.
This production is the fourth show in the theater's first season under new management and the collaboration between the Waco Civic Theatre and Vive Les Arts Theatre. The musical already played at the Waco theater in February.
"There have been some obstacles to overcome, but it's been successful with every show making money, and each show has been better attended," said Shepard. Production costs were reduced by one-third to one-half by sharing costumes, sets and props and bargaining with the rights holders for performance fees.
Theater renovations continue at VLA, too, such as installing a new stage floor. Other improvements include new ceiling tiles and light fixtures in the office, plus new and rebuilt computers. The lobby got upgraded with ceiling tiles, light fixtures and insulation, while the bathroom received a fresh paint job. New in the Green Room are a counter-top, sink and appliances. About $10,000 was spent on the upgrades, but many of the materials and labor were at reduced costs or donated.