Belton focuses on infrastructure improvements as city grows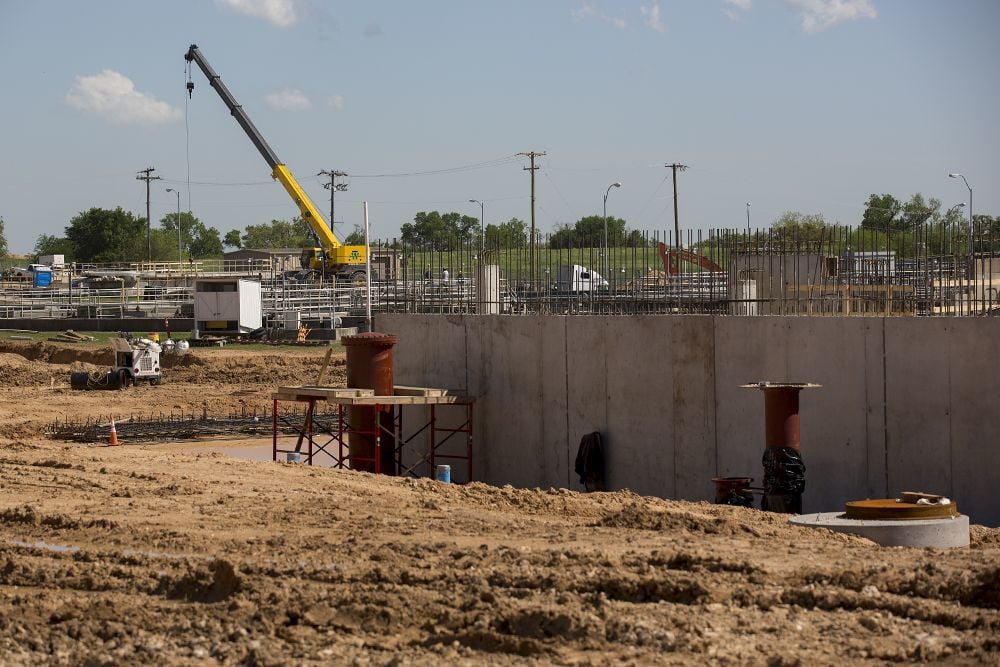 BELTON — Mayor Marion Grayson was not joking when she said the City Council's top goal for 2018 was improving infrastructure.
There are 16 infrastructure projects in various phases winding their way through the Belton Public Works Department. Most of these projects are focused on three areas: wastewater, water and roads.
The sheer number of projects underway, Public Works Director Angellia Points said, is somewhat out of the ordinary.
"However, infrastructure projects often take months to design, weeks to bid and months to years to construct," she explained. "Prudent planning helps us to be efficient and proactive."
Along with the Belton City Council's impetus to focus on infrastructure, there is another pressing reason for the number of projects.
"Belton is a growing and thriving community and that translates to a growing and developing infrastructure," Points said.
Since 2010, when the last Census was conducted, the city has grown by 3,505 people, bringing the population to 21,721, according to city estimates. That means Belton, on average, has grown by about 438 people every year since 2010.
Belton's population is projected to grow more in the coming years and decades. The city is anticipating its population to be 30,000 to 35,000 by 2030 — if it maintains its current growth rate.
"When I was a little boy … a population of 6,000 or 8,000 was who we were in the community," Councilman Dan Kirkley said. "Now that we've gone over 20,000, I would say that (we have) to maintain our community personality and yet continue to provide those resources we want our community members to have like parks."
While growth certainly strains the city's infrastructure, so does its age.
"Deteriorating infrastructure and streets affects how people perceive us," Grayson said. "As long all of that is maintained and working then people will be thinking, 'Man, Belton is a great place to live.'"
Addressing city roads is already on Belton's to-do list. In early March, the City Council awarded a $495,112 contract to construction company Oldcastle Materials-Wheeler to mill and overlay 3.3 miles of streets.
This is one of the seven projects under or set to be under construction in the county seat.
The overlay project is a part of the fourth year of Belton's five-year street maintenance plan.
On top of that, the city is wrapping up its four-part $3.1 million Sparta Road reconstruction project. It included: Improving where Main Street and Industrial Park Road meet; widening Martin Luther King Jr. Avenue, giving drivers more space to turn and constructing a two-foot wide concrete median; improving the traffic flow at the intersection of Loop 121 and Sparta Road; and installing Belton's first roundabout at the intersection of Commerce Street and Sparta Road.
Kirkley described the city's push on roads as a significant effort.
"Obviously, it's expensive," he explained. "But if we're going to be the kind of community we all want to be, we have to be willing to commit the resources to make that work."
Sewer, water improvements
The five remaining projects in the construction phase all relate to water and sewer.
The city's project to improve the water line along South Main Street and build sidewalks there is nearly complete. The City Council approved a $1.09 million contract in November 2016 for the improvements.
That project, however, is just the tip of Belton's major sewer and water line push.
Together, the cities of Temple and Belton are funding a $12.1 million expansion of their joint wastewater treatment plant. This is the first of three phases to expand the Temple-Belton Wastewater Treatment Plant. The three-phase expansion is expected to cost a total of $47 million.
Points, the Belton Public Works director, said the first expansion phase is a quarter complete. It is expected to be complete by the spring of 2019.
Phase two, which Points says will be the most technically challenging project for Belton, is expected to begin construction later this year.
"Designing an expansion at a wastewater treatment plant is always interesting," she said. "The expansion will also incorporate a newer technology called integrated fixed film activated sludge, or IFAS. The IFAS system is a biological treatment that uses bacteria to consume organics and nutrients from the wastewater."
That system, Points explained, will allow for smaller tanks at the plant.
While the expansion of the plant will allow Belton and its neighbor to the north to meet their booming populations, another project has the potential to transform this city.
The rise of southern development?
"When developers want to come in, they're going to want water and sewer lines," Grayson said.
Enter the South Belton sewer project.
The first phase of long awaited South Belton sewer project is set to break ground in April with construction lasting 12 months. The sewer lines will run from near Holland Road, follow Loop 121 and end at the intersection of Grover Road and Capital Way. It will cost $2.55 million.
Phase two of the project was sent back to the drawing board after the City Council, led by Councilman David K. Leigh, described previous plans for this portion as "significantly deficient."
Phase two will be redesigned to increase the service to 1,500 acres. Prior plans would have served 1,200 acres, leaving a large swath of properties without a direct sewer connection. It will also open the new sewer to Belton Independent School District's 109-acre tract near Loop 121 should a future campus be built there.
The $96,920 redesign will be handled by the Richardson-based engineering firm Half Associates. The estimated construction cost for the redesigned second phase of the sewer project is $2.8 million.
Additionally, the Belton Economic Development Corp. has committed to funding the construction of a water line along Interstate 35.
"That's going to have a huge impact on the way the community grows on that end," Grayson, the mayor, said. "It gives the citizens the businesses that they're calling for. So being on the interstate, businesses that may not necessarily come inside town would go there."
Other projects in the works
There are still a number of projects underway.
In March, the City Council approved a $183,911 contract to improve the pump station that receives all of Belton's water. They also approved a $52,900 contract for Temple-based KPA Engineers to draw plans for drainage improvements and widen Mesquite Road.
At their first meeting of 2018 in January, the Council approved a $220,030 contract to improve the city's aging system that monitors the distribution and status of Belton's water.
The designs for Belton's third water storage tank, which is estimated to cost $3.8 million when complete, are expected to be finished in two months.
KPA Engineers is also working on the designs for five smaller water and sewer projects. The designs will cost Belton $272,000.
Belton's focus goes beyond improving basic infrastructure. The city is working a realignment of its planned link that will connect the northern and southern segments of the Chisholm Trail Hike and Bike Trail. Belton has spent, so far, $175,000 on this trail link.
Additionally, drainage improvements for the Liberty Hill area of Belton and redesigning East Street downtown are still in the early development stages.
The Public Works director said the current projects show that the city is meeting Beltonians' most basic needs for water, sewer, streets and drainage.
"Our goal is to improve our infrastructure every day, one day at a time," she said.