Killeen Chamber of Commerce learns about equipment testing for soldiers during luncheon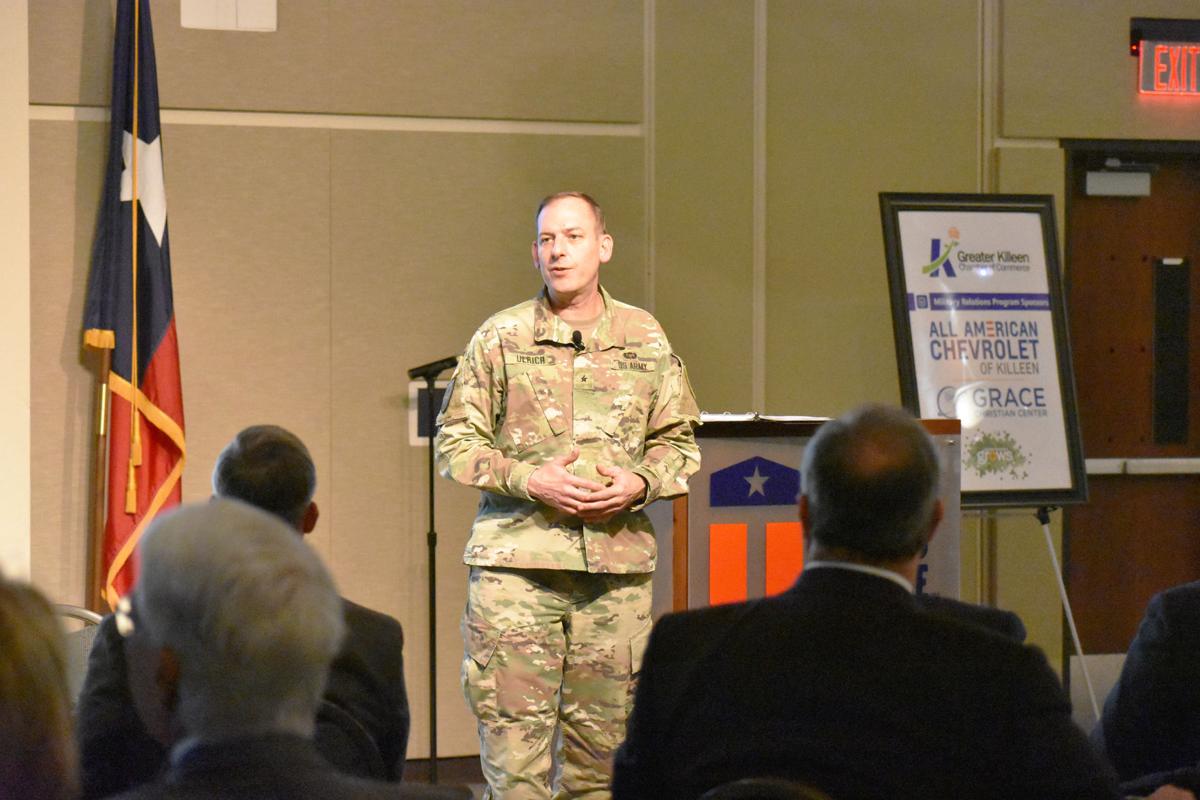 The Greater Killeen Chamber of Commerce military relations council welcomed U.S. Army Operational Test Command commander Brig. Gen. John Ulrich to a luncheon at Central Texas College on Tuesday to learn about how the unit impacts the everyday lives of soldiers on Fort Hood.
Ulrich's unit is responsible for testing new equipment and systems soldiers — and other service members — use to ensure they will work properly before the troops have to rely on them in a combat zone. This includes everything from the new modular hand gun to cyber security, he said.
"I liken us to the Army's version of Consumer Report," Ulrich said. "That's fundamentally what we do. Anything the Army intends to buy or put into the hands of soldiers to use in a combat situation — whether it's a system, an actual weapon or anything of that nature — we want to test it out before we get it into an environment where, possibly, your life might depend on it working in the way you want it to work."
 Although headquartered on Fort Hood, the unit has additional test directorates located at Fort Huachuca, Arizona; Fort Sill, Oklahoma; Fort Bliss, Texas and at Fort Bragg, North Carolina, he said.
The Airborne and Special Operations Test Directorate is located at Fort Bragg and tests everything from gear used by soldiers jumping from airplanes to methods for safely airdropping tactical vehicles, Ulrich said.
"We're dropping things out there that weigh 50,000 pounds or more, sometimes," he said. "And we have to make sure that when it hits the ground, it can still be operated."
Fort Sill has the Fires Test Directorate, which tests all cannon, rockets or similar munitions such as a replacement for the Paladin field artillery cannon. The Intelligence and Electronic Warfare Test Directorate is located at Fort Huachuca, which deals with surveillance, electronics and many classified systems, Ulrich said.
Fort Bliss hosts the Air Defense Test Directorate, which handles matters between ground and air assets, including systems to shoot missiles out of the sky such as the Patriot.
"That's the organization of Operational Test Command," he said. "We test anywhere in the world, though mostly it is done in the continental United States."
The unit employs approximately 1,000 personnel, half of which are contractors, Ulrich said. Of the remaining half, two-thirds are civilian employees and the remaining are active duty military.