Killeen ISD chess teams compete at district championship event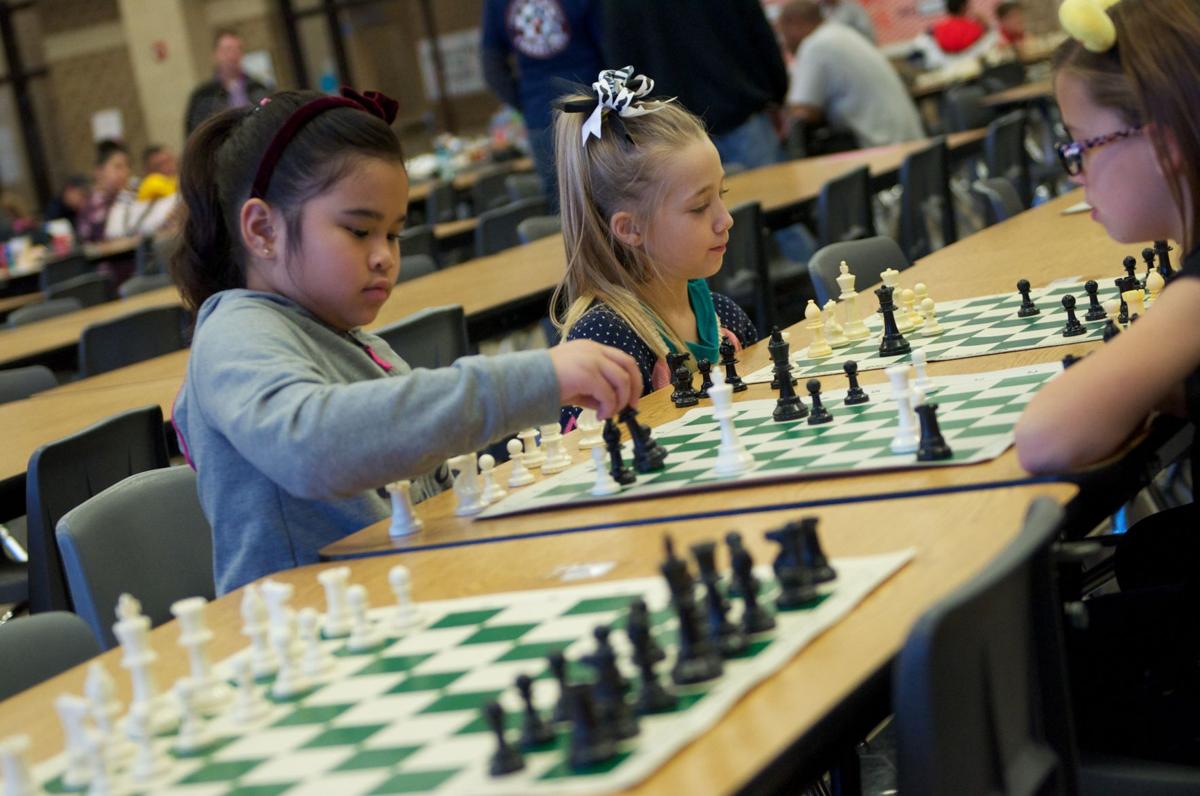 Following several matches in the fall, qualifying teams met Jan. 20 at Patterson Middle School to determine a district champion. Later in the spring, individual students will battle head to head to determine the top players.
Cavazos Elementary School won the district title among elementary schools, with Willow Springs just one point away for second place. Patterson Middle School and Killeen High School won their respective divisions.
 Trophies aside, the tournament planners and some participants said the game is about more than winning.
Willow Springs Elementary School Assistant Principal Noel Taylor has coached chess teams and taken them to tournaments for 18 years. He has seen the game serve as a turning point in young lives.
"We keep it going because it's an outlet for students," he said. "It promotes critical thinking and problem-solving."
Divided into elementary and secondary teams, students sat across from one another, shook hands to start and played their matches, many taking long moments to think through their moves.
"I like doing the competitions," said Willow Springs fourth-grader Nevaeh Hasty. "I like challenging people. I try to stay focused, take deep breaths and slow down."
Rancier Middle School's longtime chess coach Darieck Foster, a classroom skills aide, has been running chess tournaments even longer than Taylor and agreed it's the development in individual students that makes the game so important.
"It's the growth you see in kids," Foster said Jan. 20 during the district championship event, "especially from the elementary to the secondary levels."
Watching a student play, the coach said, you can see what they are thinking about. "It starts to click and you can see what they are thinking," he said.
Chess players of any age can succeed through persistence.
"Here, you have to go through the process," Foster said. "You can't skip steps because it's all in your head. Chess is also a great equalizer." The winner is the one with the best plan.
Patterson Middle School students Sadiki Bakari and Benjamin Loeffler have competed in chess a long time and appreciate the game's mental requirements.
"I enjoy chess because it's a thinking game," said Bakari. "I try to stay 10 moves ahead."
"I like chess because it's strategic and requires me to think more than usual," said Loeffler. "You can see the game through and win."
The two eighth-graders said they believe chess helps them succeed in academic courses. Bakari recognized the skill could help him in his pursuit to become an engineer and design structures.
"It helps in everyday life, too," he said. "Chess helps keep you mindful of everything around you."
Even younger players appreciate the mental aspects of the game.
"I like to strategize and put my brain to use," said Willow Springs fourth-grader Benjamin Sayers. "I look at their moves and see how to beat them."
Taylor was a teacher for many years at Clear Creek Elementary School before moving to Willow Springs as an administrator three years ago. His chess club at Clear Creek became so popular, 200 students showed up after school to play.
"The talent level is high here," Taylor said, pointing out that teams and individuals move on to region, state and national competitions.
"Chess is a catalyst for changing conditions," he said. "Students see you don't have to be successful in sports or other activities. Once you see your abilities, you can have success.
"It can rewire your thinking," he said. "When you see your ability, that can start a transforming process. You get another view of how life can be. Plus, it's fun."