Fort Hood hosts mega job fair for transitioning service members, families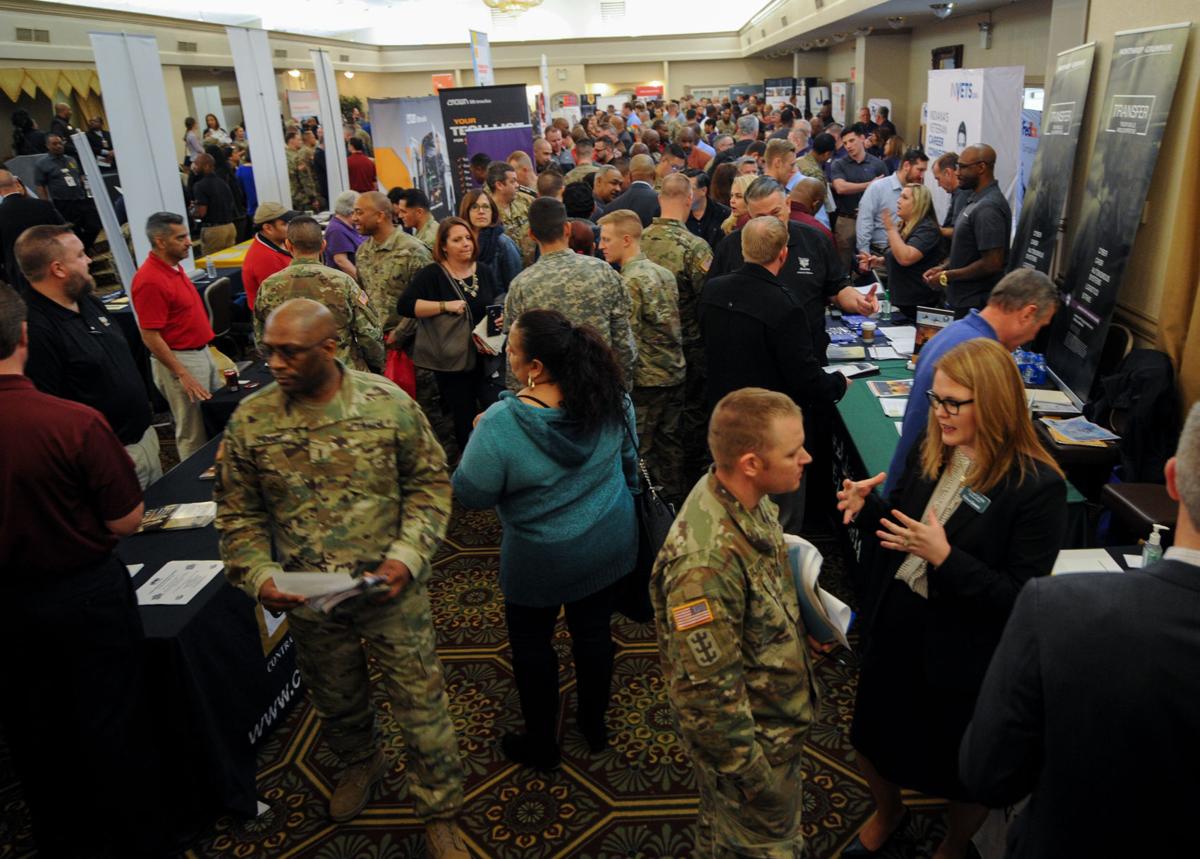 FORT HOOD — Fort Hood partnered with Workforce Solutions of Central Texas and the Texas Veterans Commission to host a job fair at Club Hood on Tuesday.
At least 200 vendors from local, state, national and international companies and agencies set up booths to recruit soldiers who will soon be getting out of the Army.
Martin Traylor, the transition services manager for Fort Hood, said 600 employers were at the job fair and expected approximately 6,000 soldiers to attend. Family members of the soldiers also attended and applied for jobs at the fair, which was open to people with access to post.
Traylor said only five federal agencies were unable to travel because of the government shutdown.
"We're trying to connect the soldiers that are transitioning out of Fort Hood with the employers that are looking to hire veterans and soldiers," Traylor said.
Several Central Texas police departments, the Killeen Independent School District, universities and government contractors were all present to recruit quality candidates.
Patrol Officer Jason Sloan from the Grand Prairie Police Department in Grand Prairie, Texas, said the department was testing for new recruits on May 12 and that his department had success in the past hiring soldiers.
"If law enforcement, especially for the military police, is something they want to transition to in the civilian world, then we want to let them know that our door is open," Sloan said.
Antoine Marion, an operations manager with Nstar Global Services, said his company helps to place high-tech professionals to advanced technology facilities, life sciences, automation and information technology.
"The soldier that has an aviation or technical, chemical or environmental health and safety background would be the type of individual we'd be looking for," Marion said. "The good thing about the military personnel is that they understand following standard operating procedures and safety, which are key things companies look for."
Danielle Muniz, a correctional officer with the Texas Department of Criminal Justice, was recruiting for a variety of positions.
"A lot of people have misinterpretations of what our job is, and I want to get the word out there for good candidates," Muniz said. "I was in the military, and I was looking for something similar that had the same structure and had great benefits. Everything the military offers, the state also offers."
Fort Hood hosts three large-scale job fairs a year for those with access to the installation. The next job fair date has not been released yet.