Killeen airport has cheaper fares — sometimes
Reminder: Delta leaves Monday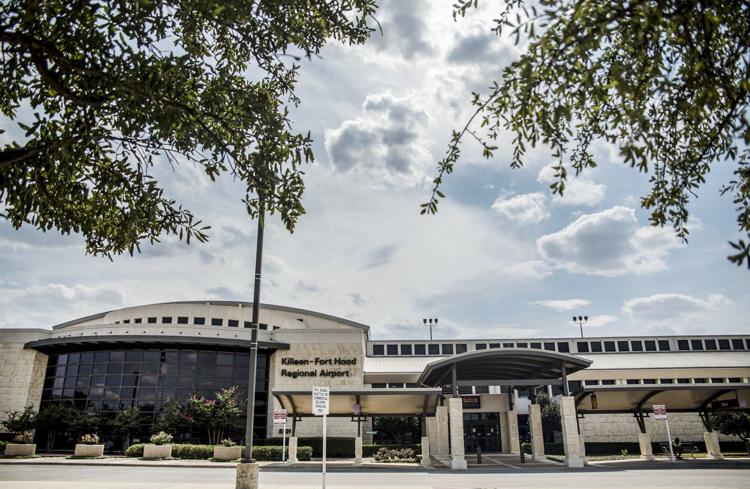 Not all airfares at the Killeen-Fort Hood Regional Airport cost more than flying out of the Austin airport. In fact, when fees and driving time are factored in, some fares can be a downright steal.
As Delta Air Lines' last operating day at the airport looms Monday — a sudden exit after nearly 12 years based on what the airline previously said was a sustained decline in demand — Matthew Van Valkenburgh, Killeen's executive director of aviation, is using every opportunity to communicate the benefits of flying local.
SOCIAL MEDIA
In a Facebook post last week, an airfare comparison between Killeen and Austin–Bergstrom International Airport depicted a difference of less than $75 for some round-trip fares from Jan. 24-30 across several carriers, including American Airlines, Southwest Airlines, United Airlines and Delta.
The fares were found 14 days in advance from airline websites for economy class tickets, with a stay of a week and show the top 12 markets served.
"Notice we are cheaper on a couple fares," the post reads.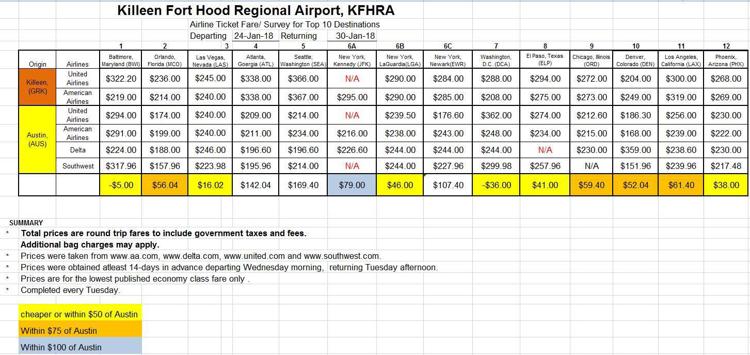 The best deals?
Baltimore and Washington, D.C., both on American, were $5 and $36 cheaper, respectively, than flights from Austin, while flights to Las Vegas, Phoenix, LaGuardia Airport in New York, and El Paso, had fares within $50, data show.
The prior week?
Nearly all of the top 12 markets from Killeen to Austin were within $50 — except to Atlanta where Delta headquarters is located.
In the Killeen airports' more recent social media posts, only Austin is listed as a competitor, but what was left out might be telling. The airport conceded in a post Dec. 19 that Dallas is cheaper than Killeen and Austin, and the latest available data from the Bureau of Transportation Statistics show a trend that spans more than a decade with higher-than-average airfare in Killeen.
Travelers in 2016 paid an average fare of $482 to fly from Killeen round-trip, which is about $200 more than Love Field in Dallas ($278) and $100 more than Austin ($372).
That's not to say deals can't be found, as the airport on Facebook points out, but Van Valkenburgh said pricing can be complicated.
He takes every opportunity to point that out to airlines.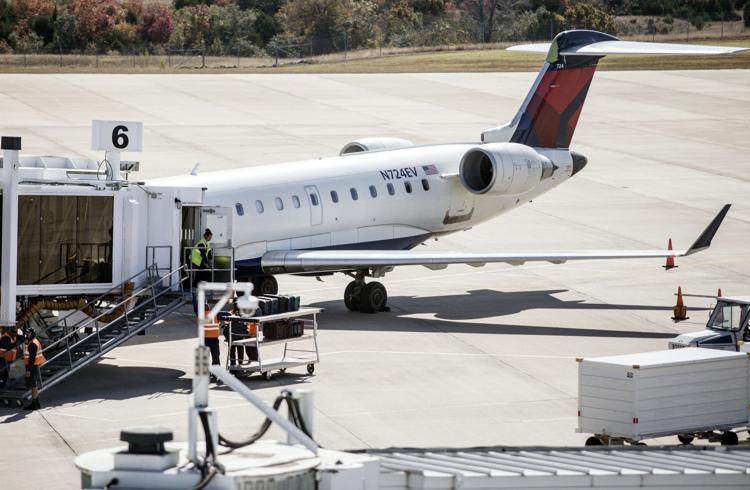 "We strive to ensure the airlines are fully aware of the issues (the Killeen airport) faces with the airfare disparities to Austin and (Dallas)," Van Valkenburgh said in a Thursday email. "Our goal is to maintain parity with our competitors when those changes occur."
When a large disparity in airfare is perceived between Killeen and competitors, weekly results are compiled into a spreadsheet and a trend line is developed for each airline, he said. That's then sent to the airlines to make them aware of problems.
The last time that was done was September 2017 and prices since then have been very competitive, and lower in many of the top 10 destinations served, Van Valkenburgh said.
EJECTED
Delta has provided no details behind its sudden departure, aside from saying there was declining passenger activity when it broke the news in November. The company has not responded to several attempts from the Herald for comment on what it's doing to help passengers and employees with tickets booked beyond Monday. Van Valkenburgh also has not heard anything more on that front.
What other insight is there into what happened?
Airports typically team up with outside companies that go to bat for them during special meetings with airlines. Those companies, which help hype up or sell an airport or flight route to airlines, bring in business by using studies, data and influence.
Here's what Killeen's meetings looked like in 2016: American (met 4 times); United (3); Southwest (2); Alaska (2); GLO (2); Delta (2); Allegiant (2); SkyWest (1); and JetBlue (1).
In 2017: United (3); Skywest (2); American (1); Elite Airways (1); JetBlue (1); Midwest Airlines (1); Republic Airways (1); and Southern Airway Express (1).
If Delta Air Lines appears to be absent from 2017's tally, it's because it was — just two conference calls were held with Delta representatives, but no meetings were held in person over the past 18 months, according to Van Valkenburgh.
"We attempted many times to coordinate a headquarters meeting with Delta … they refused to give us a date. We had a phone conversation as late as November (2016) in which they deferred a meeting," he said.
The airline announced Nov. 28 it would be leaving.
Did it see something in the data it didn't like?
LATEST NUMBERS
Van Valkenburgh has said Delta's departure took city leaders by surprise.
Inbound and outbound passenger activity in 2017 in Killeen was the weakest in more than a decade, according to the latest numbers provided by the city last week.
November and December data is in, and last year's passenger activity is revised to 260,707, which is short of 2016's total of 277,054.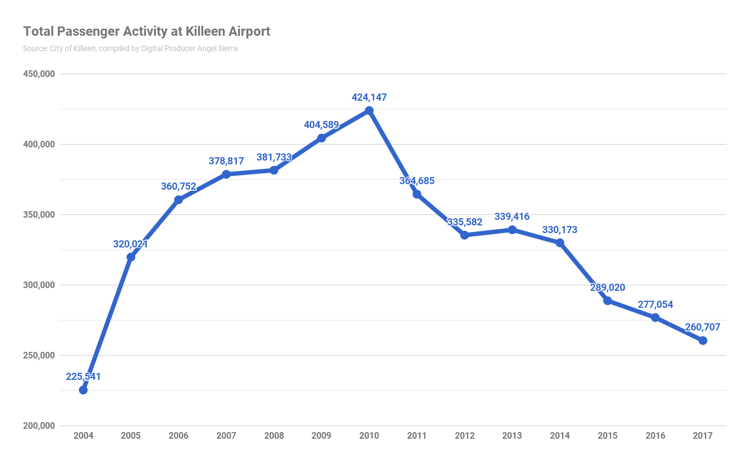 In a Dec. 3, 2017, article, the Herald projected that even with November and December numbers left to report, 2017 would extend a year-over-year slide in total passenger activity to four consecutive years. The numbers held and 2017 was the most anemic performance in more than 12 years.
PUBLIC MEETINGS
The Killeen-Fort Hood Regional Airport has three public meetings coming up to provide area residents and businesses opportunities input on the Airport Master Plan, a document that will narrow what the airport's future should look like.
The first meeting is 6-8 p.m. Wednesday at the Killeen Utility Collections Conference Room, 210 W. Avenue C.
Two meetings will be at the same time and date the next day, 6-8 p.m. Thursday, but at different locations: the Harker Heights Activities Center, Room C, 400 Indian Trail in Harker Heights, and at the Copperas Cove Council Chambers, 508 S. Second St., in Copperas Cove.
Comments will be solicited at the meetings, and planning staff will be on-hand to discuss the project.
YOUR VOICE
More than 500 votes were cast last week in a Herald online poll asking readers what would it take to fly more from the Killeen-Fort Hood Regional Airport. Here's how you answered, as of Wednesday afternoon:
• Cheaper airfare, 402 votes (74 percent)
• Increased nonstop destinations, 106 votes (19.5 percent)
• Another airline, 20 votes (3.7 percent)
• Free parking, 15 votes (2.8 percent)
The story also reached more than 16,000 people on Facebook and garnered 117 comments.
MORE ONLINE
Go to http://bit.ly/2m3IYlx to read last week's Herald article about how the Killeen airport is searching for a new company to help it turn around ridership. See http://bit.ly/2l82ZZ1 to read our first story on airport's usage and how competition between airlines often drives lower fares.
Check out http://bit.ly/2yYwNei to learn about the financial hole left by Delta's departure, and go to http://bit.ly/2BBYD2o to read about the airport's marketing challenges.