'Such a cool feeling': KISD firefighter students get hands-on training
Looking for a Realtor contact Larry Mitchell Broker Associate, ABR, CRS, GRI with Century 21 Randall Morris & Associates at 254 681 5115 or www.HarkerHeightsHomes.com for your dream home, selling, relocation and thank you for your referrals.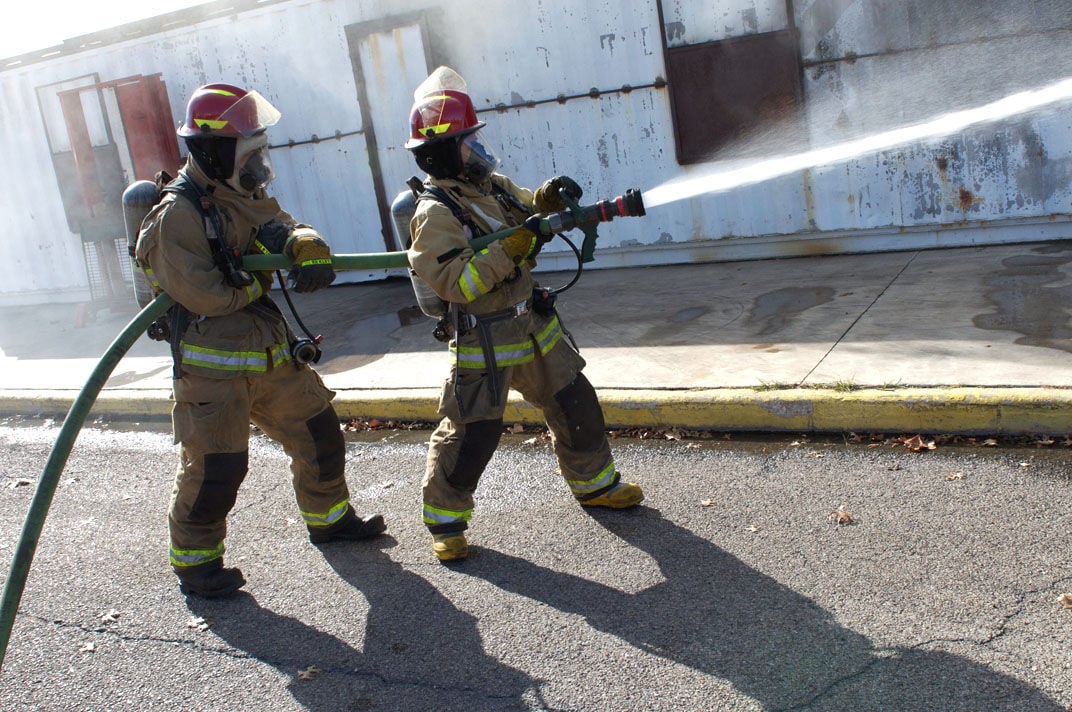 With smoke billowing from the metal building, firefighters forced open a window, crawled inside and rescued the occupant from the burning structure.
Pulling a dummy from a smoking building isn't a bad way to spend a school day for seniors in the firefighter cadet program the Killeen Independent School District administers through the Killeen Fire Department.
With the semester winding down, cadet seniors in recent weeks worked on rescue techniques before a final exam.
Upon successful completion of the three-semester program, the cadets can take the state test to become certified firefighters.
Next semester, the students will take the emergency medical technician course, also through the KISD/KFD partnership.
Behind the KFD Central Fire Station next to the academy training building Nov. 29, students entered the metal building as smoke spewed from lit hay bales inside. One student team carried a hose through the front door. At the side, a rescue team entered a window.
A third team held a hose ready to douse flames if needed.
During several rescue sessions, cadets switched positions to try different roles.
For these seniors, now one-and-a-half years into training, good days at school are measured in terms of intensity.
After completing her turn on the rescue team, Ellison High School senior Jessica Shoemaker had a hard time explaining her excitement.
"It's cool," she said, acknowledging she couldn't really get hold of the thrill. "This is my future career and I really enjoy it."
Starting again, she explained the intensity of the scene.
"You can't see anything," she said, "it's black with smoke with just a little light coming in. It's such a cool feeling training to be something so much better."
In earlier classes, the students extinguished live fires and sawed through cars, but rescuing someone, even a mannequin, added a new dimension.
Harker Heights High School senior Josh Viguers, also a senior firefighter cadet, agreed that a day of rescue training is a great day of school.
Trainers dampened the hay inside the building, he said, to make the smoke thicker.
Entering the building, firefighters follow the walls with their hands and load the hose into the building to avoid getting lost in the dark, smoke-filled structure, the student explained.
For the hay-propelled conflagration, cadets used an "indirect attack," firing around the blaze.
"It's awesome," Viguers said. "There are so many benefits to this. It's a great career and it can lead into the medical profession."
Viguers said he's wanted to be a firefighter since sixth grade and the challenging program makes sense for anyone interested in health care who's ready to work hard.
For Shoemaker, fighting fires is an appealing career because it helps people. She said her inspiration is her father, who was a soldier and now is a police officer.
"I've always been inspired by his drive," she said. "Success is about having pride in what you do and you can't beat saving lives."