Drivers urged to 'Move Over or Slow Down'
Looking for A Realtor contact Larry Mitchell Broker Associate, ABR, CRS, GRI with Century 21 Randall Morris & Associates at 254 681 5115 or www.HarkerHeightsHomes.com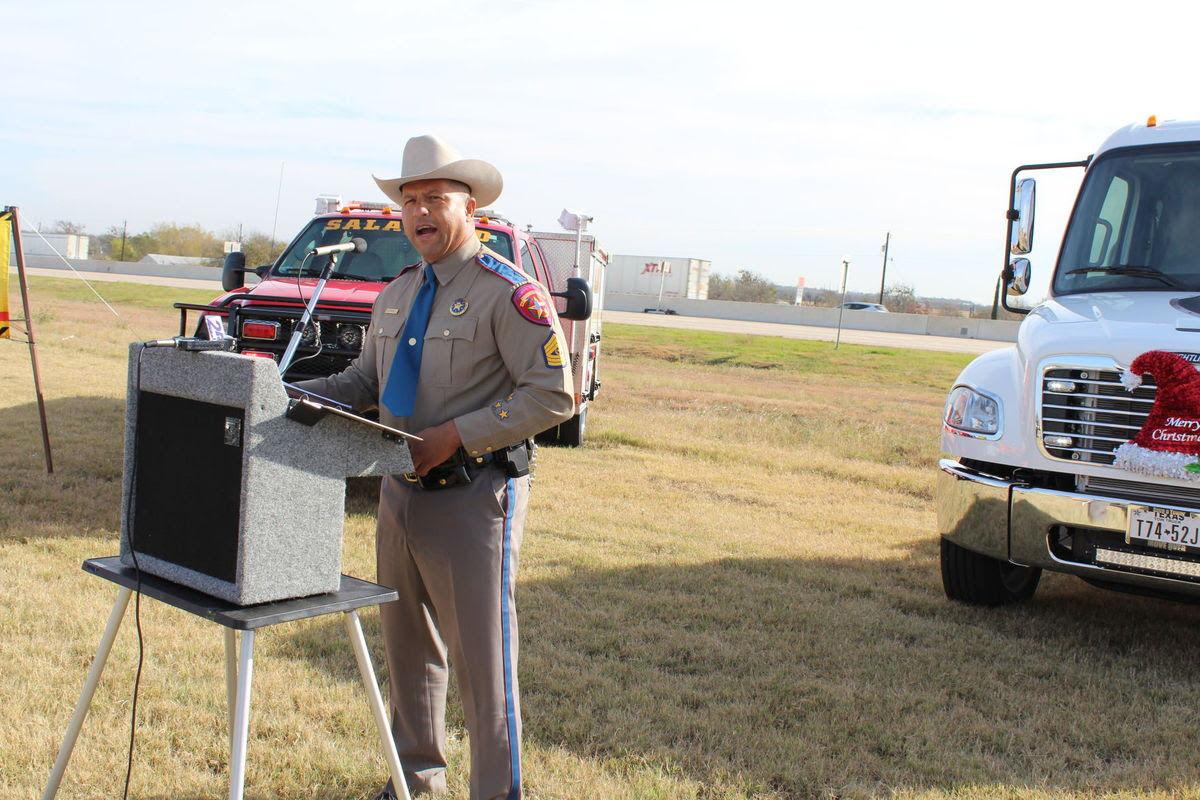 SALADO — As the holiday travel season picks up, local officials are reminding motorists to keep an eye out for law enforcement officers, first responders, tow trucks and construction vehicles that may be stopped on highways.
State Rep. Hugh Shine, R-Temple, and the Texas Department of Transportation held a news conference Thursday morning to spread awareness for the state's "Move Over or Slow Down" law.
With Interstate 35 as the backdrop, Texas Department of Public Safety Sgt. Deon Cockrell explained the law, which was passed by the state Legislature in 2003.
"Whenever you see an emergency vehicle, state law requires all motorists to either vacate the lane nearest that emergency vehicle or slow down to 20 miles per hour below the posted speed limit," Cockrell said at the Salado I-35 rest stop. "Violators can face a fine of up to $200, but what we're really worried about is our friends and families who are out on the road."
The law was amended in 2011 and 2013 to include tow trucks and TxDOT vehicles. Even though the law has been on the books for several years, it seems many drivers haven't gotten the message.
"I have driven a tow truck for 19 years and have had numerous instances where I've almost been struck by cars, pickups, semi-trucks and flying debris," Matthew Jarma of Temple Towing said at the briefing. "I'm very fortunate that I'm still standing here today with some of the situations I've had."
Bell County has been the scene of two fatal accidents this year involving roadside vehicles covered by the law.
Last month, DPS Trooper Thomas Nipper, a Morgan's Point Resort resident, was killed while making a traffic stop on I-35 in Temple. In May, Killeen tow truck driver Scott Bowles, 39, died after tending to a vehicle on Interstate 14/State Highway 190 in Harker Heights.
Stephanie Bowles, Scott's widow, said the lives of those who respond to traffic accidents are often in the hands of passing motorists.
"If you can't give them enough room to do their jobs, they're not going to get home to their families," Bowles said. "With (distractions) such as texting while driving or eating while driving, most people aren't going to see that tow truck or that police officer until it's too late. Slowing down and moving over is going to save that person's life."
Bowles described the toll that losing her husband has taken on the family.
"It changes your life completely. I have a 9-year-old that faces his birthday without his dad. Then you have the 18-year-old who can't grasp all of it," Bowles said. "That decision you make to slow down or move over can prevent all of that from happening."
Since the accident, Bowles has become an advocate for the law, but she said many drivers are still unaware of it.
"The awareness is still vague out there," she said. "You talk to people and they don't know about it. A lot of people still have no clue that (the law) includes tow trucks and TxDOT vehicles."
Byron Sedlacek of Temple EMS said he has seen co-workers injured on the job.
"As a supervisor, having received that call in the past where one of my employees was hit while working an accident scene, I can tell you it's not a very good feeling," Sedlacek said. "I ask everybody to recognize the situation and allow us to do our jobs and go home to our families at the end of the day."
Shine ended the event by saying he will he will call upon his fellow legislators to spread awareness as well.
"This isn't just a message for Bell County and motorists here. We are going to send a link out to 149 other members of the Texas House of Representatives and I am going to ask them to put that out in their communities," Shine said. "I'm hopeful my colleagues will see the importance of this and will help spread the word throughout the state over the next few days."