'We can do so much': Ellison leadership academy encourages digital skills
Looking for a Realtor contact Larry Mitchell Broker Associate, ABR, CRS, GRI with Century 21 Randall Morris & Associates at 254 681 5115 or www.HarkerHeightsHomes.com for your dream home, selling, relocation and thank you for your referrals.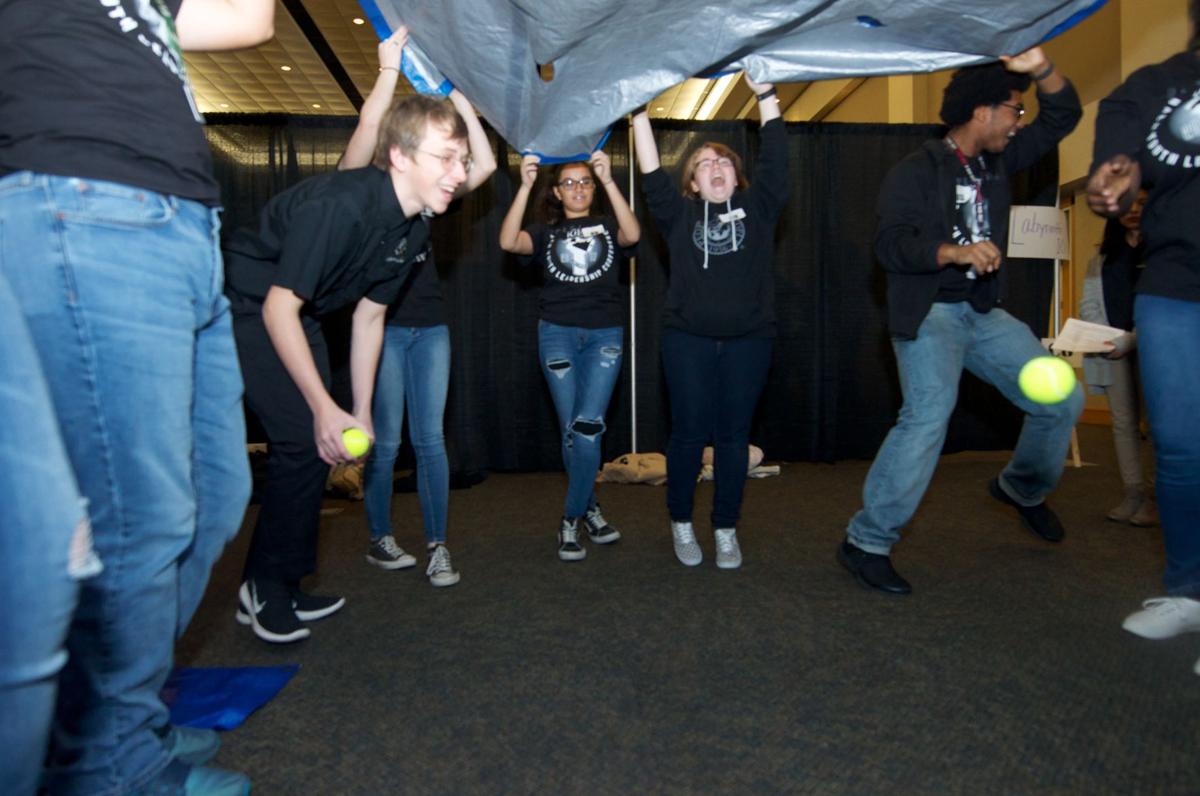 The Ellison High School Leadership Academy urged their own "iGeneration" on Friday to leverage their digital technology skills with caring, compassionate leadership that looks to others above self.
The academy's 15th annual conference drew 353 sixth- through 12th-graders from all of Killeen ISD's high schools and middle schools and from Copperas Cove, Salado, Lampasas and Florence.
Ellison Leadership Academy seniors ran the conference, organizing food and a speaker, setting up team-building games and delegating responsibilities to younger peers.
Senior Karina Diaz Santini, the conference chairwoman, said she wanted to pursue the theme "Operation iGen" as a way for high school and middle school student leaders to address confusion over generational identity.
"We can do so much," she said Friday as students swirled about in activity at the Killeen Civic and Conference Center. "We haven't come close to reaching our potential."
Leadership Academy students took on the task of process leaders and game leaders, guiding students from five Central Texas school districts through games to encourage communication and collaboration.
Ellison High School Principal David Dominguez encouraged leadership conference attenders to remember that every generation takes turns as the misunderstood ones that their forebears fear will bring calamity.
"We make broad generalizations about generations," he said as he urged students to place more value on the stories of individual people — the diverse experiences that define us as individuals.
"I challenge you, iGen, to be a new version of the Greatest Generation, to start a new culture where every person is valued for the story they live," Dominguez said.
The principal went on to encourage the students, already identified as leaders, to extend respect to the people who follow them and to humbly accept the responsibility of impacting the lives of others.
Between the principal's charge to lead with compassion and an inspiring call from motivational speaker Gabe Salazar, students worked in randomly selected mixed groups on games to test their cooperation skills.
Ellison senior Symone Thomas, "game master" for the conference, kept track of 26 games, as well as five alternative games and a new game development section.
"The purpose of the games is to build leadership," Thomas said. "They bring out those who are quiet and shy and people from all different backgrounds and help them to blossom."
Many of the games required groups of students to figure out how to balance on unsteady surfaces, to move through mazes based on verbal directions from peers or to meet physical challenges together.
The activities, periods of reflection and the speakers' words always moved back to emphasizing a style of leadership that goes beyond skill and knowledge to a sense of serving with love and respect.
"Commit to loving people," Dominguez said. "See people as stories beautifully written. Understand the power you have to write in the pages of others' journals."
"We have technology and access," said Santini. "We want to find out more about iGen. We want to find out about ourselves. It feels amazing to reach out to so many people."
"Leaders don't have to be loud and aggressive," said Thomas. "A leader listens as much as they speak and takes in as much as they give out."