Building bridges: Killeen residents meet one-on-one with police
Looking for a Realtor contact Larry Mitchell Broker Associate, ABR, CRS, GRI with Century 21 Randall Morris and Associates at 254 681 5115 or www.HarkerHeightsHomes.com for your dream home, selling, relocation and thank you for your referrals.
About 20 members of the Killeen Police Department met with residents at the department's Community Boulevard headquarters Thursday evening to talk about with residents about crime prevention, just like they've done time and time again.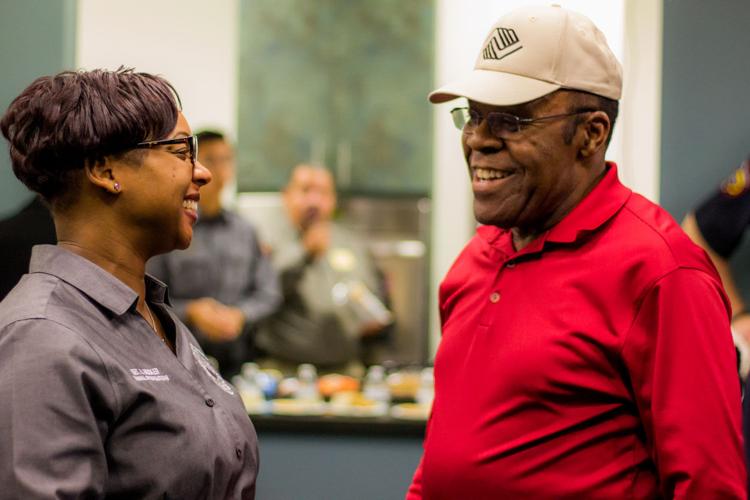 This session was a bit different, though. Officers, detectives and even Chief Charles Kimble took the first 40 minutes to meet with residents individually, and talk about their personal concerns in a more intimate setting.
"Tonight is not about trying to solve a crime, though if you do have information on a cold case, we will take it. But it's about building a relationship," Killeen District 2 Councilwoman Debbie Nash-King said. "Build that relationship with them (police officers) so you can trust them and they can trust you. They're just like you and me, they wake up and get dressed in the morning."
In the past, the meet-and-greet meetings or community forums began with presentations from the police chief, crime prevention coordinator Tammy Moseley and representatives from several divisions such as investigations or patrol. Those presentations were still given, but not until officers and residents had some time to talk directly.
"It's not a meet-and-greet; it's about building relationships," Nash-King said. "(People) will be more likely to be like 'Hey, there's a crime here' or 'Hey, I heard this.' They won't be afraid of each other."
Maria Gardner, 71, came to the forum because she wanted to hear the new chief in person for the first time. She also voted for Nash-King, and said she was happy to see her following up on her campaign promises.
Gardner didn't expect to get to talk to officers one-on-one, but was glad she did, especially as the budget for the department has been cut.
Burglary and car theft prevention tips were given to those in attendance. The holiday season is among the worst for theft, police say, but there are simple steps that people can take to keep their property safe.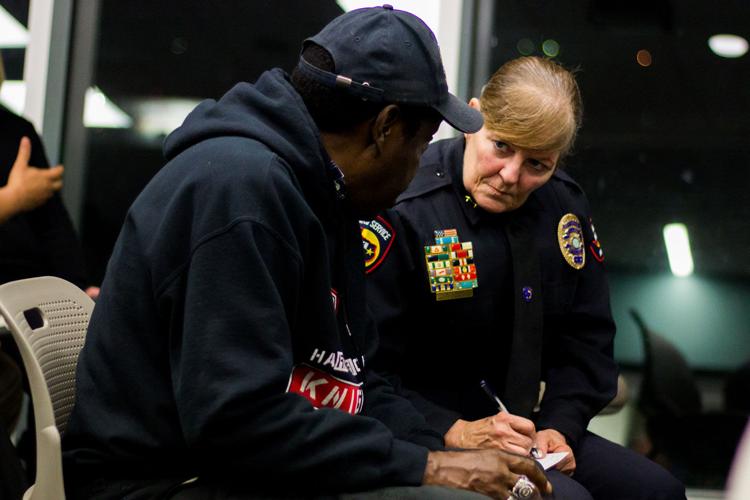 It starts with making sure that car doors are locked, and keys and valuables aren't left inside vehicles overnight.
Make sure in the days following Christmas, you don't advertise what gifts you just received by placing the boxes out by the road for the garbage truck to pick up.
"Don't put out your box from your Air Force 1s, your Playstation, your Pandora or Kay's jewelry box out in front of your house," Kimble said.
Sometimes the theft doesn't happen at your home, but over the phone. Officers warned residents in attendance of the grandparent scam, in which people will call grandparent-aged people pretending to be their grandchild and demand some sort of payment as either money to bail that grandchild out of jail or pay some sort of medical bill. Phone calls from IRS agent impersonators are another thing to watch out for.
"You think you're going to pay the IRS with $5,000 iTunes card? It's not going to happen," Det. Ramiro Martinez said.
Don Smith is a 75-year-old U.S. Army retiree, who like Kimble, spent some time in Fayetteville, North Carolina, while stationed at Fort Bragg. He was eager to get acquainted with police and was happy to have individual conversations.
"To me, crime is a problem everywhere, but the only way we're going to help solve it is work with the police department," Smith said. "I think we all need to realize that 99 percent of what the police do is good, but sometimes, it seems like the only thing we see in the newspaper is the 1 percent of bad."
The issue of community-building came up several times throughout the evening. Several residents in attendance asked how to demolish distrust of the police department among people, and the dwindling amount of funding the department has received was brought up as well.
"I have to build a relationship with you, things like this help build those relationships," Kimble said. "I'm not going to talk about what happened before I got here because that's not fair. But everywhere we go … we're building relationships every day, and we're going to keep building those relationships every day. We're constantly doing that, and we will keep doing that as long as I'm the police chief."