With '14 Forward,' investors see incoming business
Looking for a Realtor contact Larry Mitchell Broker Associate, ABR, CRS, GRI with Century 21 Randall Morris & Associates at 254 681 5115 or www.HarkerHeightsHomes.com for your home find, selling, relocating and thank you for your referrals.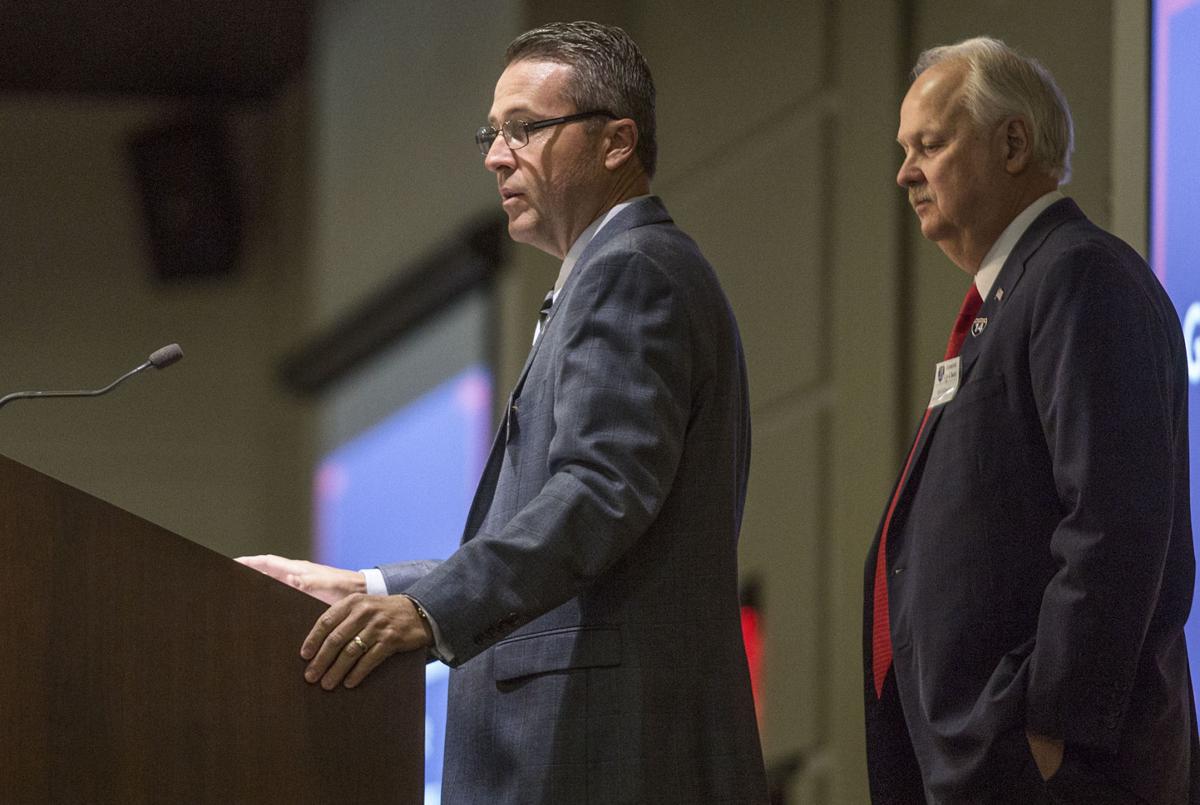 Business and community leaders and the Greater Killeen Chamber of Commerce launched "14 Forward Economic Development Initiative" at a kickoff event at Central Texas College early Thursday.
More than 100 people attended the breakfast meeting to raise $2 million in a private-sector campaign to grow the area's economy along the Interstate 14/U.S. Highway 190 corridor.
The meeting was co-chaired by Bill Kliewer, a local businessman, and Killeen veterinarian Brad Buckley, who is also running for the state House District 54 seat.
With "14 Forward," and the new interstate, businesses now look at Killeen differently, said Kliewer.
"Our community and region have to get creative and work together to strengthen our position in a competitive world for economic development," he said.
Buckley sees the initiative as a solution to many area problems.
"We want to diversify this economy with aggressive recruitment of new business, because a strong and growing economy is the answer to so many problems that ail cities, counties and school districts," Buckley said. "'14 Forward' is the business community taking ownership of our future."
So far, 30 regional investors have committed $1.2 million of the $2 million goal. The investors include banks, vehicle dealers, restaurants and other businesses and individual investors.
The campaign will be managed by the Fort Hood Region Economic Development Foundation, a nonprofit.
The three goals of the initiative are:
Grow business and investment.
Promote Fort Hood.
Strengthen infrastructure to improve quality of place.
The initiative is a supplement to what the city of Killeen already does and it will use existing resources, said Killeen chamber Chairman Abdul Subhani.
"By focusing and collaborating on key goals, we can work to drive economic development and improve the quality of life in our community and region," he said.
The initiative's planning phase took almost a year with chamber leaders and strategic partners developing strategies and goals. The funding raised will be used for:
New business attraction in the defense, information technology, transportation/logistics and business services industries.
Planning for the development of a research park at Texas A&M University-Central Texas.
Staff support for the Heart of Texas Defense Alliance to prepare for BRAC (base realignment and closure) related growth opportunities at Fort Hood.
Expansion of I-14 through education and mentorship of communities along the corridor.
Targeted strategies to increase bandwidth/internet speed throughout the region.
Calling "14 Forward" a great step in the right direction, Killeen Councilman Gregory Johnson said the city is at a time, and in a place, that requires action, not just words.
"We have soldiers with all that training that want to stay in Central Texas, so we have to provide a quality of life, infrastructure and jobs for them," Johnson said.
Killeen resident Zenia Warren attended the meeting because she is interested in the region's economic growth.
"I see this is as an opportune project for the county to move into the century where we belong," Warren said.