Veterans honored for 'selfless service'
Looking for a Realtor Call Larry Mitchell Broker Associate, ABR,CRS, GRI with Century 21 Randall Morris & Associates at 254 681 5115 or www.HarkerHeightHomes.com for your home find, selling, or relocating to another area.  Thank you for your referrals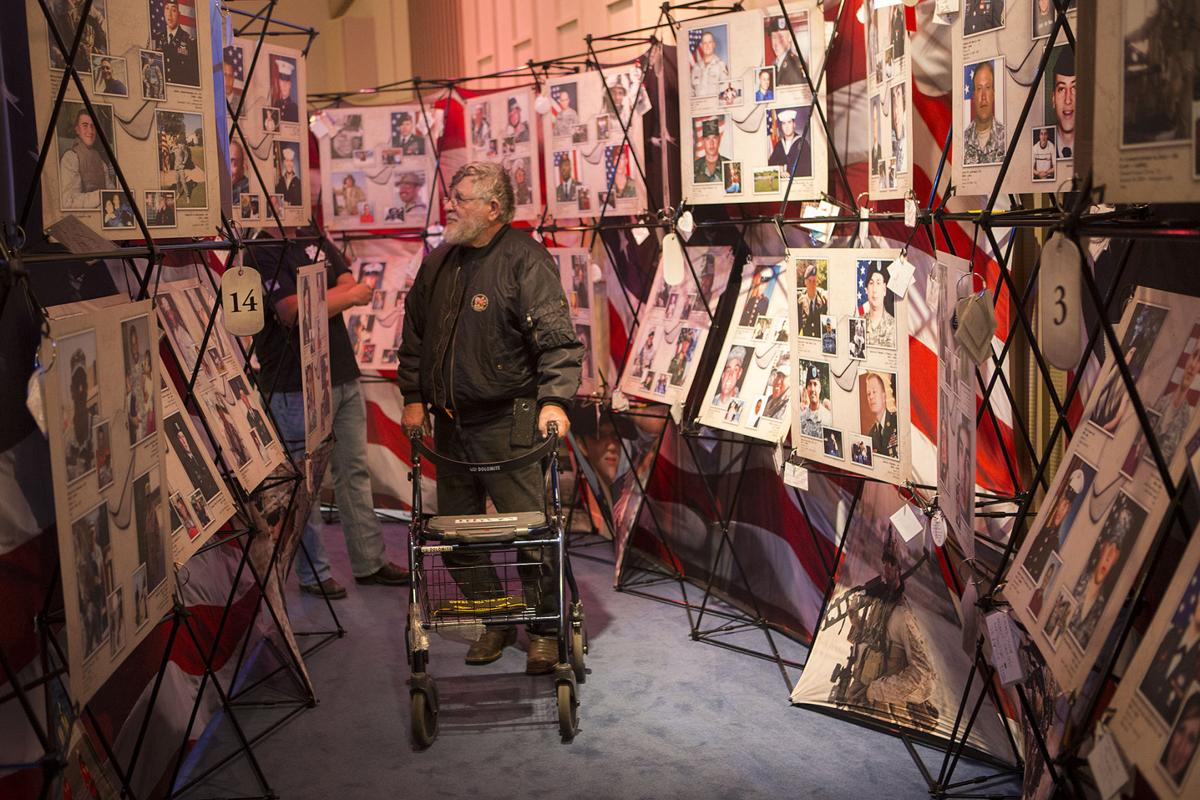 The sun broke through the clouds during the Saturday morning Veterans Day Program at the Avenue of Flags memorial in front of the Olin E. Teague Veterans' Medical Center in Temple.
About 250 people attended the ceremony, and at one point family and friends went forward to place wreaths and flowers at the wall. American Legion Riders Post 55 added to the tribute by posting the colors and later rendering a 21-gun salute. Natasha Hartley, a Killeen gospel singer, stirred the crowd by singing the National Anthem and "God Bless America."
"We honor the dead on Memorial Day, the living on Veterans Day," said District 31 U.S. Congressman John Carter, R-Round Rock.
"We have won many wars, and conquered," he said. "We don't do it as conquerors, but as saviors."
On Thursday in Washington, D.C., he said he visited what used to be called the Old Soldiers' Home. The facility came into being partly as a result of the war with Mexico, he said. U.S. commanders told their troops, "Americans don't pillage."
"Congress was so proud of the fact that our soldiers behaved. They gave them a bonus," Carter said.
One general used his bonus to buy 500 acres, which was dedicated to veterans for an old soldier's home.
"I'm proud of the quality of human beings who serve this country," Carter said.
Retired Army Sgt. 1st Class Eric N. Skinner said he was born in North Carolina, the youngest of nine children, and wound up serving with the Army in Saudi Arabia, Kuwait and Iraq. It all started when a friend who was going to join the Army asked him to come along.
"I ended up joining, and he didn't," Skinner said. "I still thank him."
"I never really understood the responsibility that comes when you put on that Army uniform," he said.
Honor, sacrifice and commitment were three things that the Army taught him, he said.
"Today we want to show our heartfelt appreciation for these brave men and women who were willing to risk their lives," Skinner said.
That includes a lot of other things, such as time away from kids' graduation, he said.
"The U.S. Army defines it as selfless service," Skinner said.
"You all have displayed these characteristics," he said to veterans in general. "You are committed to protecting our great nation. You did so with honor and integrity."
Skinner once spoke to a group of fifth-graders, he said. When he talked about respecting each other and staying out of trouble, he said, they didn't show much interest. But when he began to explain some of his military experiences and how they added to his basic life skills, the students perked up.
"So I want to encourage our servicemen and women to continue their services in the community," Skinner said.
Christopher R. Sandles, director of the medical center, said that in 1918 the guns of World War I fell silent, and the doughboys came home. But it was not the end of war after all, he said, as other evil systems rose. He commended the members of the U.S. armed forces for their response in World War II.
"They answered this country's greatest challenge, and led us to victory," Sandles said.
During the worst moments and the blackest circumstances, our veterans acted to keep us safe, he said.
"Let it be our mission to preserve the memory of their great deeds," Sandles said.
Looking for a Realtor Call Larry Mitchell Broker Associate, ABR,CRS, GRI with Century 21 Randall Morris & Associates at 254 681 5115 or www.HarkerHeightHomes.com for your home find, selling, or relocating to another area.  Thank you for your referrals