Bathroom Makeover: 4 Tips to Spruce It Up
Looking for a Realtor to help with your home find or sale of your home or great relocation service Call Larry Mitchell Broker Associate, ABR, CRS, GRI Centruy 21 Randall Morris & Associates at 254 681 5115 or www.HarkerHeightsHomes.com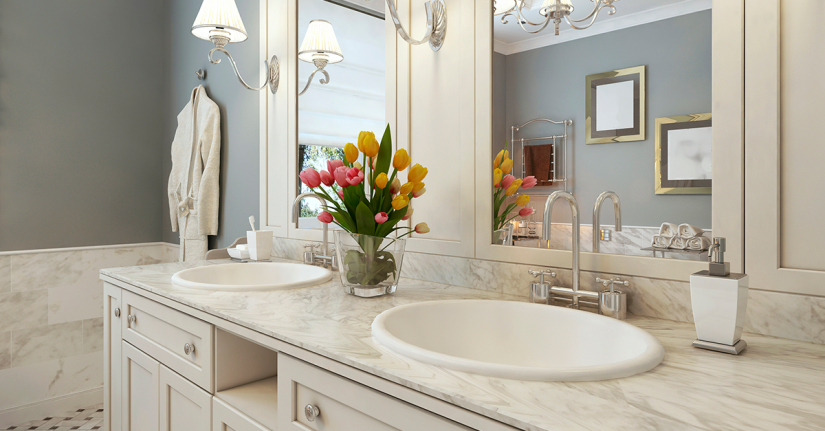 Is your bathroom looking a bit dated? Whether on display for an open house or just there for guest use, it might be time to give the room a makeover! If completely remodeling isn't feasible, there are still ways to update. Try these four tips that may help to spruce up your place without committing large amounts of your time and money.
Frost Windows
Since bathrooms tend to be smaller, they need as much natural light as they can get. While covering up bathroom windows with curtains is essential for privacy, you're blocking precious sunlight. Instead, try frosting your windows for maximum light while maintaining your privacy.
Replace Showerheads
Still stuck with the same showerhead that was there when you moved in? Consider replacing it. It's an easy installation that may make all the difference. Look for a showerhead with settings for water pressure and flow so that each member of your family can choose their own preferences.
Update Towel Racks
While towel racks and other hardware in your bathroom don't exactly expire, their styles might. Browse options available across all types of racks, such as free standing, wall mounted, and over the door, to find a more current look that fits your home decor personality.  Visitors may notice that new pieces give an updated look to the entire room.
Add Fresh Linens
When was the last time you bought new bathroom linens? If you're not sure, then it's time for new ones. Set your new, fluffy towels on display (on that stylish towel rack you just installed) for a fresher look. Make sure to invest in a couple extra for any overnight guests to use.
You might be surprised with how these quick fixes can give new life to an older looking bathroom. Get started today!
Looking for a Realtor to help with your home find or sale of your home or great relocation service Call Larry Mitchell Broker Associate, ABR, CRS, GRI Centruy 21 Randall Morris & Associates at 254 681 5115 or www.HarkerHeightsHomes.com