Out & About: Upcoming events and activities in Central Texas
Call Larry Mitchell with Century 21 Randall Morris & Associates at 254 681 5115 or www.HarkerHeightsHomes.com for your Real Estate questions.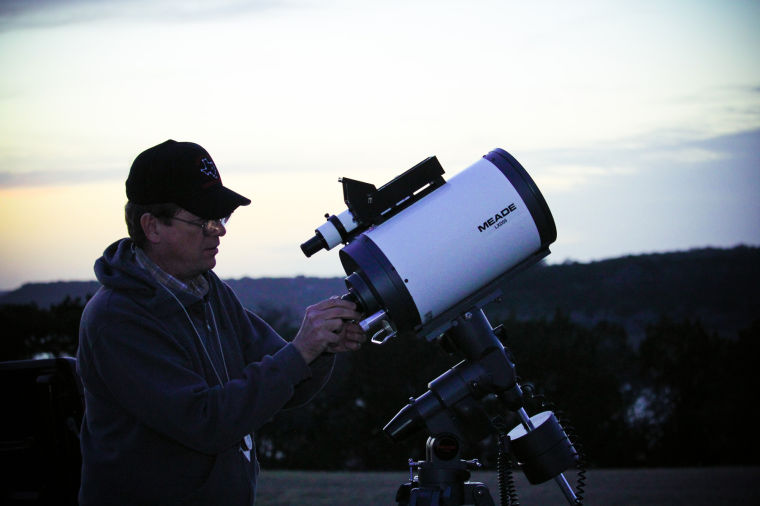 Looking for something to do? Here's a list of entertainment, family and social events that's sure to keep you busy.
Have upcoming events to include? Email events@kdhnews.com. Items run as space is available.
---
Best Bets
The Dead Fish Grill at 2207 Lake Road in Belton presents Party on the Patio from 8 p.m. to midnight Friday. The event features DJ Red, a shrimp boil and happy hour all night. Call 254-939-5771 or go to www.deadfishgrill.com.
The Central Texas Astronomical Society plans its next Bell County Star Party from 7:30 to 10:30 p.m. Saturday at Overlook Park, near Stillhouse Hollow Lake outside Belton. The event is free and open to the public, weather permitting. Go to www.centexastronomy.org.
Local Music
Blends Wine Bar presents Jazz Fridays from 8:30 to 10:30 p.m. Friday with the Blaine Smith Jazz Quartet. Thursday is Jazz Open Mic from 8:30 to 10:30 p.m. Blends Wine Bar is at 208 N. Penelope St., Belton.
Dirty Harry's presents live music at 9 p.m. Wednesdays. For ages 21 and older, no cover. Dirty Harry's is at 206 W. Veterans Memorial Blvd., Harker Heights (next to Kin Pin Tattoos). Call 254-680-6557.
Kenny Orts and No Chance Band performs from 9 p.m. to 1 a.m. Friday at Bo's Barn Dancehall at 4984 W. Farm-to-Market 93 in Temple. Cover: $10. Fireside is Saturday's featured entertainer from 9 p.m. to 1 a.m. Cover: $8. Catch karaoke from 8:30 to 11:30 p.m. every Thursday, with a DJ until 1:30 a.m. Happy Hour is from 5 to 8 p.m. every Thursday, Friday and Saturday. Go to www.bosbarndancehall.com or call 254-939-7131.
Stillhouse Wine Room has live music from 8 p.m. to midnight every Friday and Saturday. This week's guest: Bryan Thym. Cover: $5. Sunday Champagne Brunch is from 11 a.m. to 2 p.m. Cost: $19.95 in advance; $23.95 at the door. Walk-ins seated based on availability. Purchase tickets through the Facebook page, www.StillhouseWineRoom.com or at the Wine Room. A Wine Tasting Workshop is from 3 to 4:30 p.m. Sunday. Tickets: $30 in advance; $35 the day of the event. Purchase tickets through the Facebook page, www.StillhouseWineRoom.com or at the Wine Room. Thursday Night Trivia is at 7:30 p.m. with a relaxed version of the game. Topics include music, movies, sports, geography, animals and more. Every 10 questions someone wins a bottle of wine. Stillhouse Wine Room is at 403 E. Stan Schlueter Loop, Suite 308, Killeen. Go to StillhouseWineRoom.com.
Schoepf's Bar-B-Que presents Texas Acoustic Dinner Show and Auction on Sunday. Performers include Brandon Rhyder, Jarrod Birmingham and Jesse Raub Jr. Doors open at 6 p.m.; dinner is at 6:30 p.m.; show starts at 7 p.m. Cost: $50 per person. Call 254-939-1151 for tickets or to for table sponsor information. The event is a fundrasier for Harvey relief efforts in Texas. Schoepf's is at 702 E. Central Ave., Belton. Go to www.schoepfsbbq.com.
Farmers Markets
All-Year Pioneer Farmers Market will be open in front of Tractor Supply Co. on Central Texas Expressway in Killeen from 9 a.m. to 2 p.m. Saturday, weather permitting. Call Heike at 254-458-8223 or go to www.facebook.com/pioneerfarmersmarket.
Copperas Cove Farmers Market is from 4 to 7 p.m. Thursdays at City Park, 1206 West Avenue B. Vendors offer items including fresh produce, honey, fresh eggs, homemade artisan lotions, soaps, jewelry, fresh salsa, hot sauce, baked goods, organic pet treats, interior decorating items and more. To become a vendor, contact Heather Bryan at hbryan@copperascovetx.gov.
Harker Heights Farmers Market is open from 8 a.m. to 1 p.m. Saturdays at Seton Medical Center Harker Heights, 850 W. Central Texas Expressway.
Arts & Theater
RAW — Royal Street Art Walk is from 6 to 9 p.m. every fourth Friday of the month along Royal Street in Salado. Promoting visual art, the featured galleries include Bentons Custom Jewelry, FSG Fine Jewelry, Ro Shaw Clay Studio, Salado Glassworks and Sirril Art Gallery. Also participating in the art walk is Barrow Brewing Co. Call Salado Glassworks at 254-947-0339 or go to www.royalstreetartwalk.com.
The Mayborn Museum Complex presents "Off the Range: The Art and Architecture of the Trail" exhibit provides a glimpse into the Wild West of the late 19th and early 20th centuries through Frederic Remington's bronze sculptures and architectural drawings of the Suspension Bridge in Waco. The exhibit offers a nostalgic look at a rapidly disappearing western front, which underwent dramatic transformation in the face of transcontinental transportation, Native American confinement to reservation land, immigration and industrialization. "Find a Way, Not an Excuse: Women in STEM" is showing through March 25. The exhibit presents the lives of 19 women and their contributions to the science, technology, engineering and math fields, including five from Baylor University. The exhibit focuses on pioneering innovations in STEM with the hope of inspiring a fierce desire to learn continuously and encourage curiosity to lead to discovery. The museum offers free admission from 1 to 5 p.m. the first Sunday of each month. The museum is at 1300 S. University Parks Drive in Waco. For information, call 254-710-1104.
The Lampasas County Museum presents the exhibit, "A Century Ago: Life in Lampasas around 1917" through Oct. 28. Period objects from the museum's collection and on loan from local residents, including clothing, books, sheet music, World War I artifacts and photographs, will be on view to help tell the story. The museum is open from 10 a.m. to 4 p.m. Fridays and Saturdays and admission is free. The Lampasas County Museum is at 303 S. Western Ave., Lampasas. For information, call 512-556-2224.
Cinemark Theater in Harker Heights presents a live screening of "Die Zauberflote" performed by the Metropolitan Opera in New York at 11:55 a.m. Saturday. Tickets are $23 and intermission includes a behind-the-scenes look at the cast and crew. The performance lasts nearly four hours. For more information go to metopera.org.
Dancing
Join In the Mood Ballroom for dancing at 13 S. Main St., Temple. Friday is Variety Dance from 8 to 11 p.m. Tickets: $7 a person. Come at 7 p.m. for a dance lesson, pay $10 and stay for the dance for free. Attire is dressy casual. Call 254-773-7088, email Karen.Keith@inthemoodballroom.com or go to inthemoodballroom.com.
Bars, Clubs
Longhorn Saloon, 2503 S. General Bruce Drive, Temple, presents Waco's DJ Loco from 8 p.m. to 2 a.m. Friday and DJ Grito 8 p.m. to 2 a.m. Saturday. No cover charge. Call 254-771-1364.
Main Street Tejano Club, 201 S. Main St., Temple, has a DJ/live music from 9 p.m. to 2 a.m. Friday and Saturday. Call 254-541-8329 or go to www.mainstreettejano.club.
Pan American Club, 575 Pan American Drive, Harker Heights, features Tejano, Norteno and Cumbia music. Call 254-690-2882.
Book Signings
Henry A. Nash will sign copies of "Integrity Does Matter: Living A Life Above Reproach" from 1 a.m. to 4 p.m. Oct. 21 at McWha Book Store, 114 Central Ave., Belton. Go to www.mcwhabook.com or call 254-939-6474.
Family Fun
The Bell County Museum is open to the public from noon to 5 p.m. Tuesday through Friday; and from 10 a.m. to 5 p.m. Saturday. Call 254-933-5243 or go to www.bellcountymuseum.org.
Temple's Railroad and Heritage Museum's fall exhibit, "Requiem for Steam: The Railroad Photographs of David Plowden" is on display through Dec. 9. The museum, at 315 W. Avenue B, in downtown Temple, is open from 10 a.m. to 4 p.m. Tuesday through Saturday. Go to www.templerrhm.org or call 254-298-5172.
Free guided tours of the Lampasas County Courthouse are offered each Saturday. Tours start at 11 a.m. and 2 p.m., except for major holiday weekends. Tour attendees will see the water level mark of the 1957 Mother's Day flood, as well as the stately second floor courtroom and clock tower works on the third floor. The courthouse is on the downtown square, 501 E. Fourth St. Take the Loop 257 exit off of U.S. Highway 190. Contact Linda Moore-Lanning at 512-564-5122 or Jim Rutland at 512-556-5302, during regular business hours.
For Children
The Cultural Activities Center invites all preschoolers to Tot Spot, an art class for children ages 2 to 6 from 10 to 11 a.m. every third Monday. Cost is $5 per child. Any siblings younger than 2 years old are free. This month's Tot Spot program will include crafts and books inspired by Laura Numeroff. For more information, go to cacarts.org or call 254-773-9926.
Clubs, Meetings
The Copperas Cove Bass Club meetings are at the Lil Tex Restaurant in Copperas Cove on the first and third Tuesday of each month at 7 p.m. Call 254-661-9274.
The Bell County Writers Guild meets from 6:30 to 8:30 p.m. on the first Monday of each month at the Lena Armstrong Public Library, 301 E. 1st Street, Belton. Call 254-231-1843.
Festivals, Events
Salado's Christmas in October is from 9 a.m. to 5 p.m. Friday and Saturday at The Venue on College Street. The event features a bake sale, style show and Christmas shopping. Admission: $3; free parking and shuttles. For information, call 254-947-5040 or go www.salado.com.
Planetarium
Several films are now showing at the Mayborn Science Theater at Central Texas College. Matinee shows are $5 per person and the Saturday evening shows are $7 for adults and $6 for children younger than the age of 12. Discounts are offered to active-duty military, senior citizens and members. For show descriptions, full schedule and ticket prices, go to www.starsatnight.org or call 254-526-1800.