KISD Career Center showcases classes, continuing growth
Call Larry Mitchell with Century 21 Randall Morris & Associates at 254 681 5115 or www.HarkerHeightsHomes.com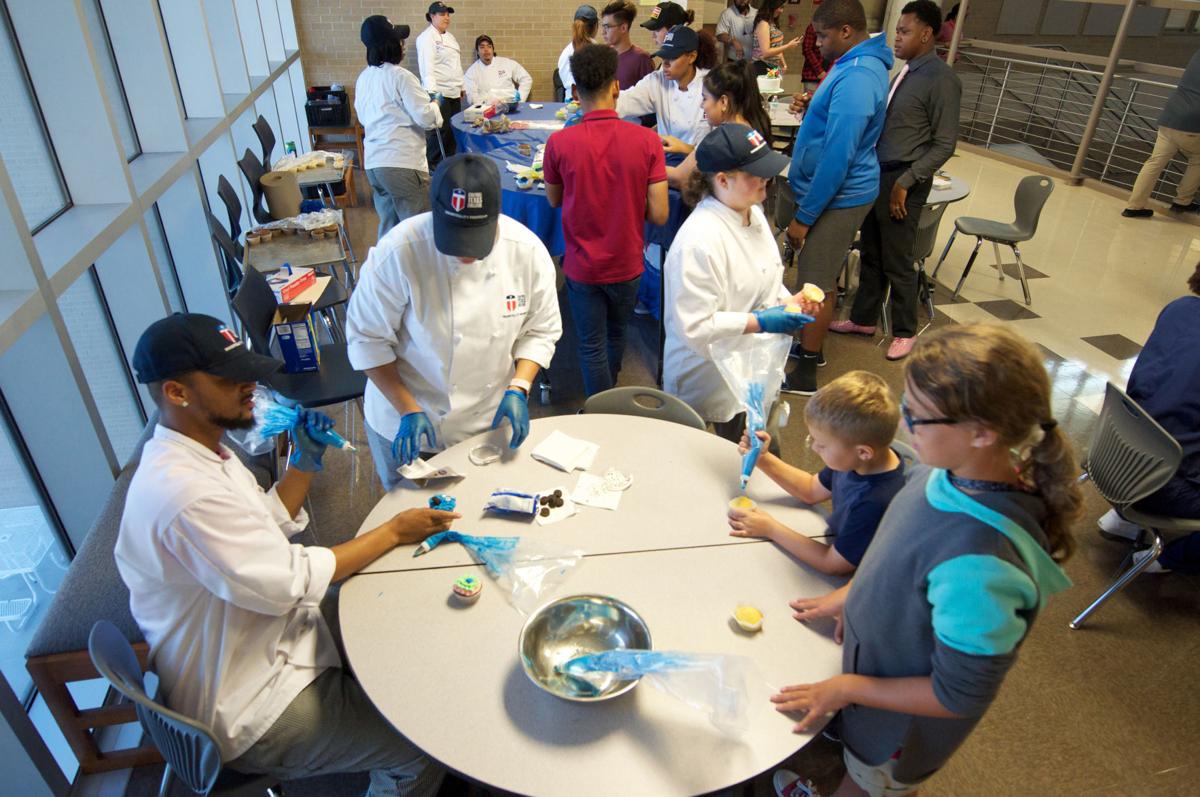 A broad spectrum of community members entered the open doors of the KISD Career Center, proceeded into the wide commons area and looked up at the high ceilings as they walked along a variety of career pathways.
Throughout the sprawling, split-level building at the intersection of Trimmier and Stagecoach roads in Killeen, guests observed students displaying their learning.
The Career Center has grown each of its six years, both in enrollment and in its variety of career-focused options. Like the ever-changing labor pool, the school's leadership and teaching staff make adjustments.
Career and Technical Education Executive Director Nancy Duran said the school requires partnership between students, family members, the rest of Killeen Independent School District's schools and the business community.
She and other leaders designed the showcase Thursday to give the community a snapshot of what the Career Center offers and to address misconceptions about Career and Technical Education.
"We want to give a clearer picture of what we have and what students are learning," Duran said.
Many residents who have heard of the Career Center seem surprised, she said, to find an auto mechanic shop, a veterinary clinic and students actually injecting people to draw blood.
High school students, she pointed out, earn industry certifications at the school, walking out as phlebotomy technicians or on their way to becoming nurses, auto mechanics or video game designers, to name a few examples.
As great as that is, though, it also creates the misperception, Duran said, that Career Center students don't continue to college — that the school is for students not headed to college.
That's not true. In fact, there are dual credit classes at the Career Center and classes that lead to college credit through articulation agreements with local colleges and universities, she pointed out.
It's also a really cool place to go to school.
There is a television studio, a radio station, a photography studio, a welding shop, a greenhouse, an agriculture barn, a salon, a screen-printing facility and a health science classroom with hospital beds and an ambulance simulator.
"Our students are leaders and they share what they are learning," Duran said. Students continually tell her they love to work on real-world equipment to prepare actual products.
There was no question about senior Tyler Terry's excitement. Upon entering the auto mechanic shop, he started pointing out parts beneath a raised vehicle to anyone willing to listen.
"I have a big interest in cars," he said. "It's great to have an instructor who knows what he's doing. We are not just learning out of a textbook."
Terry explained that the students in the automotive area have opportunity to earn a college-level certification that could qualify them for the automotive industry.
At the other end of the building, a group of culinary arts students drew a crowd as they frosted cupcakes and showed guests how to apply the sweet icing.
Kyrie Quintanilla, a first-year culinary arts student and high school junior, said she was excited to be learning the details of cooking in the CTE program that takes place at Central Texas College.
"We're cooking, learning how to prep, about temperature, how to cut," she said. "It's exciting to learn new things."
Two other excited seniors, Tanjala Smith and Christine Burris, welcomed guests into their phlebotomy class, where they showed off the mannequin arm they use to practice on before surrendering their own arms.
"I like to work hands-on, especially when we see real patients. It makes you interested in learning," Burris said.
Like many students at the Career Center, Smith said her CTE classes are one step in a long process. "I want to be a doctor and this is giving me a foundation. I'm learning more. I'm gaining an understanding about blood."
The Career Center draws students from all of KISD's high schools. Its enrollment stands at about 1,750 students, including more than 200 who stay for the full school day.
Leaders continuously monitor labor market reports and consider adding programs to meet workforce demands. This year, the school added dental assistant and auto collision and repair to its offerings.